Initial Public Offerings (IPOs) have become the hottest trends in the last couple of years, as more and more companies are launching their IPOs. But do you know what IPOs are?
IPOs are a way for unlisted companies to list themselves on the stock exchange. It is through IPOs that the unlisted companies can offer their shares to the public for subscription. There are various benefits that companies can get from issuing their IPOs, and some of these are listed below:
The company can raise considerable capital from the public and fund its growth.
By going public, companies can promote themselves and get noticed by market analysts and investors.
Companies can attract talented employees once they become listed.
It becomes easier for investors to trade in shares listed on the stock exchange. This, in turn, increases liquidity and makes the company's shares popular.
The primary market is the platform where companies launch their IPOs. After that, once the IPO has been subscribed to, the shares get listed on the secondary market. That is, on the stock exchanges, where they can be traded.
In India, BSE and NSE are the leading stock exchanges on which the stocks are listed post-allotment.
Are IPOs suitable investments?
IPOs are very attractive for investors as they allow them to invest in reputable businesses and become part-owners. Investors who want to bank on upcoming companies with good potential can subscribe to new IPOs for attractive returns on their investments. However, one should remember that even though they have subscribed to the IPO, the shares still might not get allotted to them. It is because, most often, IPOs are oversubscribed by the public. So the company allows its shares randomly, and the excess subscriptions are refunded to the investors.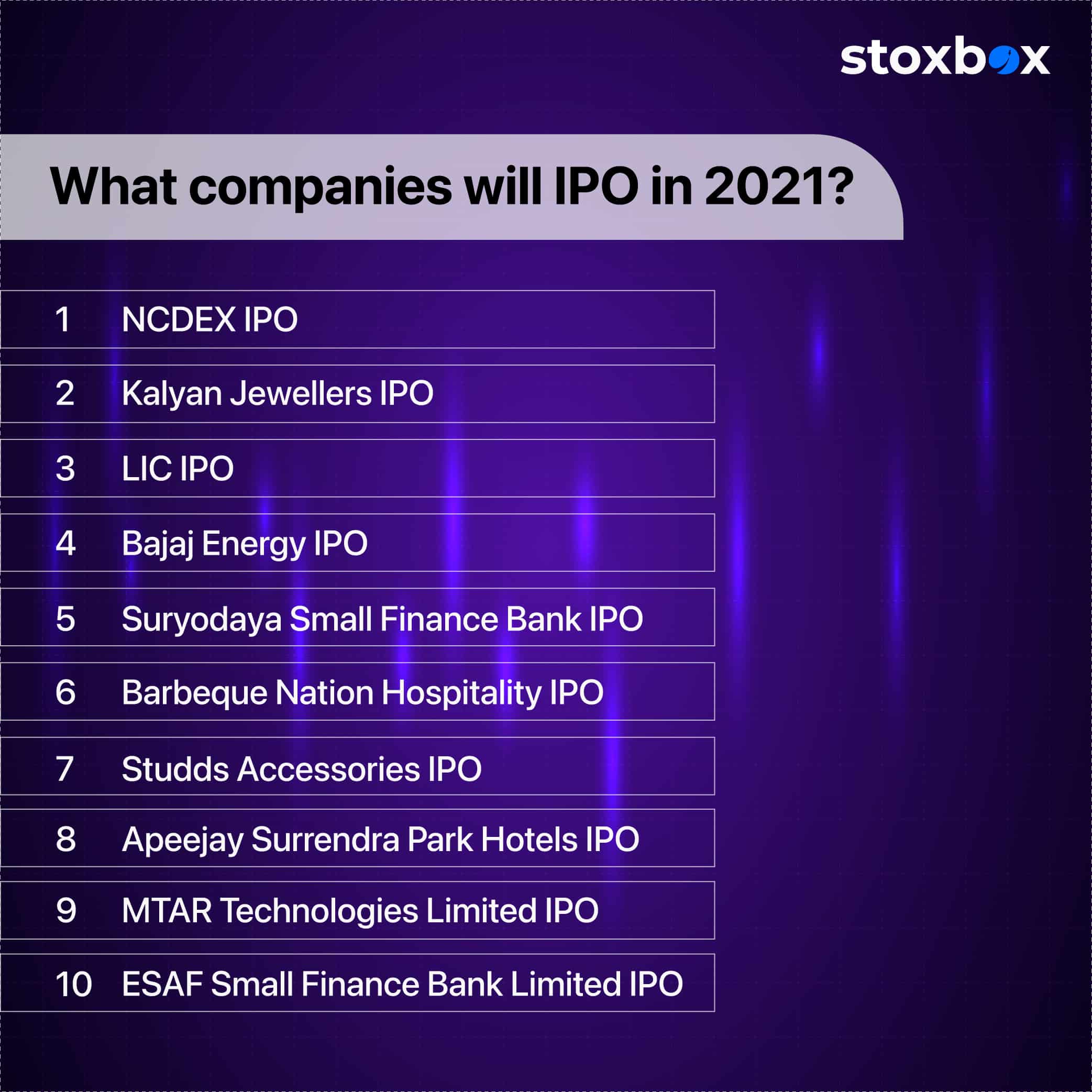 Are there any upcoming IPOs?
As mentioned earlier, in recent years, many companies have gone public by offering their IPOs. Leading chains and companies like Burger King, Mazagon Dock Shipbuilders, Mrs Bectors', etc., have launched their IPOs in the year 2020.
In 2021 too, significant IPOs are lined up. Let's have a look at the top 10 IPOs of 2021 :
What companies will IPO in 2021?
NCDEX IPO
SEBI approved the National Commodity and Derivatives Exchange Limited IPO in April 2020, and the IPO is expected to be launched this year. The IPO is going to target a fresh capital infusion of Rs.500 crores into the company.
Kalyan Jewellers IPO
Eyeing a capital of Rs.1700 crores, the Kalyan Jewellers IPO will offer Rs.1000 crores worth of new equity shares to the public. They will raise the remaining Rs.700 crores through an offer for sale. This offer for sale would, in turn, consist of an offloading of Rs.250 crores worth of shares by the company's promoter, Mr T S Kalyanaraman and Rs.500 crores by Highdell Investment. Earlier expected to be launched in December 2020, the IPO has now been pushed to early 2021.
LIC IPO
Ever since the Finance Minister mentioned the IPO in the Union Budget 2021, the LIC IPO has become the market's buzz. Expected to be launched in late 2021, this IPO would be the largest IPO to date. It will also mark the Government's disinvestment in LIC, and the IPO size can go up to a whopping Rs.80,000 crores.
Bajaj Energy IPO
Bajaj Energy IPO is expected to be launched in early 2021, and with this IPO, the company is expected to raise a capital of Rs.5450 crores. Shares worth Rs.5150 crores would be offered as a new issue, while those worth Rs.300 crores would be offered as Offer-For Sale (OFS) by Bajaj Power Ventures.
Suryodaya Small Finance Bank IPO
Suryodaya Small Finance Bank received SEBI's approval for launching its IPO in January. Their IPO will include a fresh issuance of 1,15,95,000 shares and an offer of sale of 84,66,796 shares.
Barbeque Nation Hospitality IPO
A well-known name in the hospitality industry, Barbeque Nation Hospitality is planning to launch its IPO to raise Rs.1000 crores to Rs.1200 crores worth of fresh capital. The company has made a pre-IPO placement of up to Rs.150 crores. The expected price band of the IPO is yet to be finalised.
Studds Accessories IPO
The company got approval from SEBI in 2018 for listing its IPO. It is expected to be launched sometime in 2021. The IPO would consist of Rs.98 crores worth of fresh equity issue, and shares valuing Rs.39.39 lakhs would be offered through an offer for sale by the company's promoters and the existing stakeholders.
Apeejay Surrendra Park Hotels IPO
The company got SEBI's nod for the IPO in March 2020. The IPO is now expected to be launched in 2021. The company seeks to raise a capital of Rs.1000 crores through this IPO, whose launch date has not been mentioned yet.
MTAR Technologies Limited IPO
Opening on 3rd March 2021, MTAR Technologies Limited IPO is expected to raise Rs.600 crores of capital through a book built issue. The IPO share price is expected to lie between Rs.574 and Rs.575, and there would be 26 shares in each lot.
ESAF Small Finance Bank Limited IPO
This is an IPO by a small finance bank in which Bajaj Allianz Life Insurance Company has a stake. The IPO targets to raise Rs.976 crores, consisting of both a fresh issue and an offer for sale. The fresh issue would be made for shares worth Rs.800 crores, while the offer for sale would be for the remaining value. The offer for sale would allow the promoters Bajaj Allianz Life Insurance Company and PI Ventures LLP to offload their holdings in the company.
These are some of the main IPOs that are tentatively scheduled for 2021. You, therefore, have a wide array of options to choose from. However, before you invest in an IPO, read the IPO prospectus to understand its fundamentals. This would help you understand the return potential of the stock. Also, learn the basics of trading in the stock market because you invest in a company's stock. If you are allotted the shares of the IPO, the shares would be listed on BSE and NSE, and you need to understand how to trade in them.
For the latest news on upcoming IPOs and listing dates,  subscribe to our blogs. You will be updated about the newest IPOs and advice on whether to invest or not!
If you have already gotten the share allotment after the IPO, then download the BPWealth App on your phone and trade in the shares easily.