Introduction
We are in the middle of the COVID-19 pandemic, and it is raining IPOs in India. It may seem an excellent investment opportunity to new investors and professionals, but there are few essential points to know here.
In this article, let's discuss IPOs in India and understand why many businesses register as IPOs in the middle of the COVID-19 pandemic. We will also look at some of the biggest upcoming IPOs in India, which you can consider as a good investment.
What are IPOs?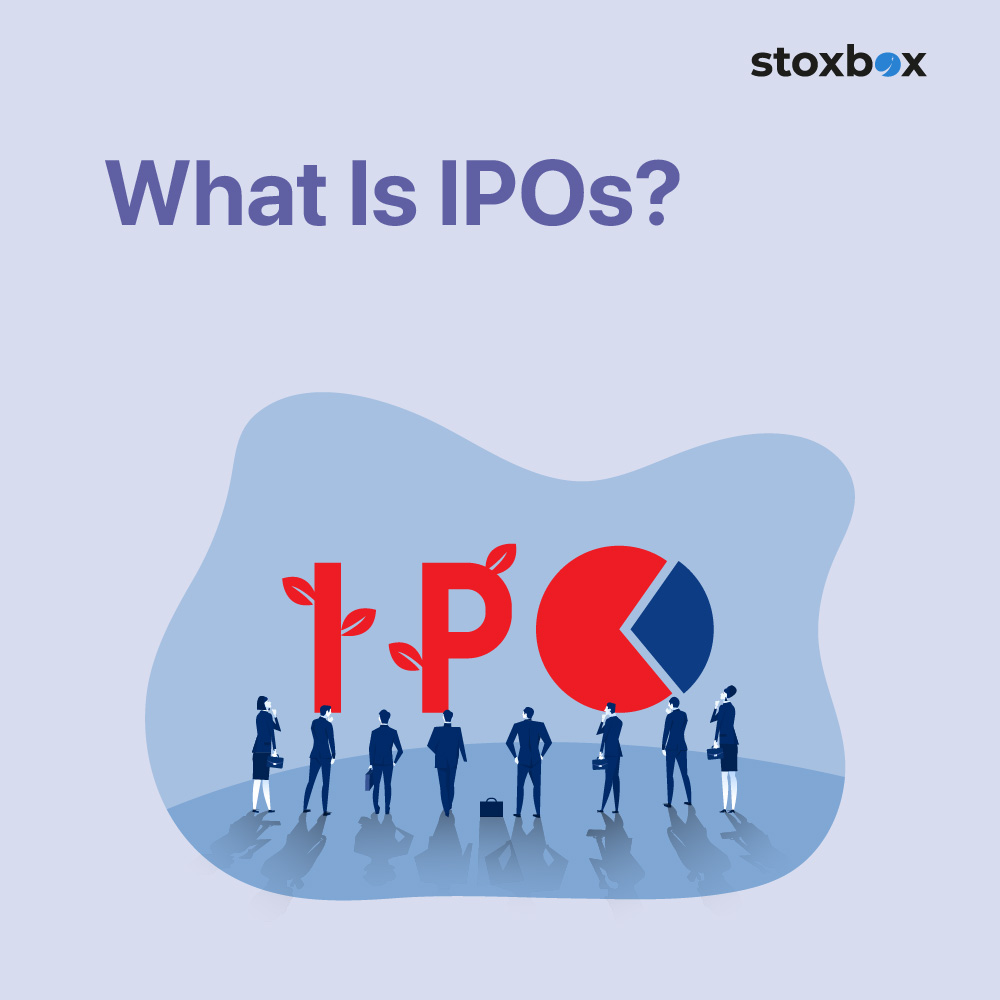 IPO stands for Initial Public Offering. IPO is a private company offering shares to the public in new stocks. When a company goes from public to private, it offers IPOs an excellent opportunity for public investors to invest in its stocks.
Before launching an IPO, a company is known as private. The investors are the founders, friends, venture capitalists, angel investors, or people who have invested in the company from the beginning.
So when a company believes that it is growing at a reasonable rate and is mature enough to meet the standards and requirements of the SEBI(Securities and Exchange Board of India), it goes public and launches its IPOs. In this way, the company gets new public investors. Both the company and the investors have new earning opportunities.ipo-2020-vs-ipo-2021-india
An IPO is considered a massive step for any company as it is one way a company can boost its investments at a huge rate.
How IPOs did in 2020?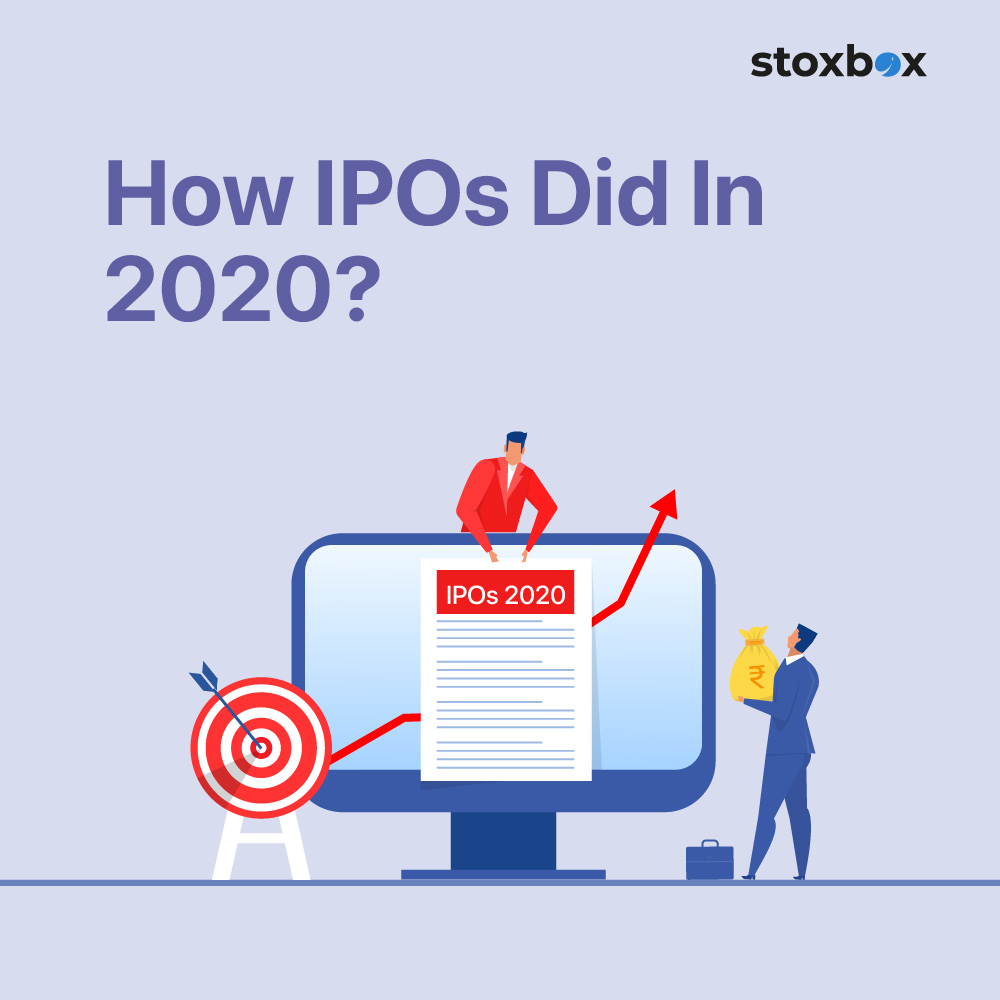 While the entire nation faced a huge loss margin because of the COVID-19 pandemic in 2020, IPOs in India did a good job for both the companies that offered IPOs and investors.
All the companies that went public in 2020 and launched their IPOs have seen a good amount of gain in their issue price. For example, Burger King launched its IPO in December last year with an issue price of INR 60, and the current price for Burger King stock is INR 129, and that is 115% profit. Most companies that launched their IPOs in 2020 have seen positive gain. Three companies, i.e., Chemcon Specialty, Happiest Minds Technology Limited and Route Mobile, went public last year and got subscriptions more than 150 times. The 2020 calendar was quite busy for the domestic private market. The IPO count for the 2020 calendar was over 10. And the IPOs raised about 30 Crores from the investors, which was higher than in 2019.
The average listing gains from the 2020 calendar was about 35.6% which is the best in the last ten years. Overall, the IPOs did a solid performance in 2020, and experts believe that this trend will also continue in 2021
The Landscape of IPOs for 2021- Is it higher than previous years?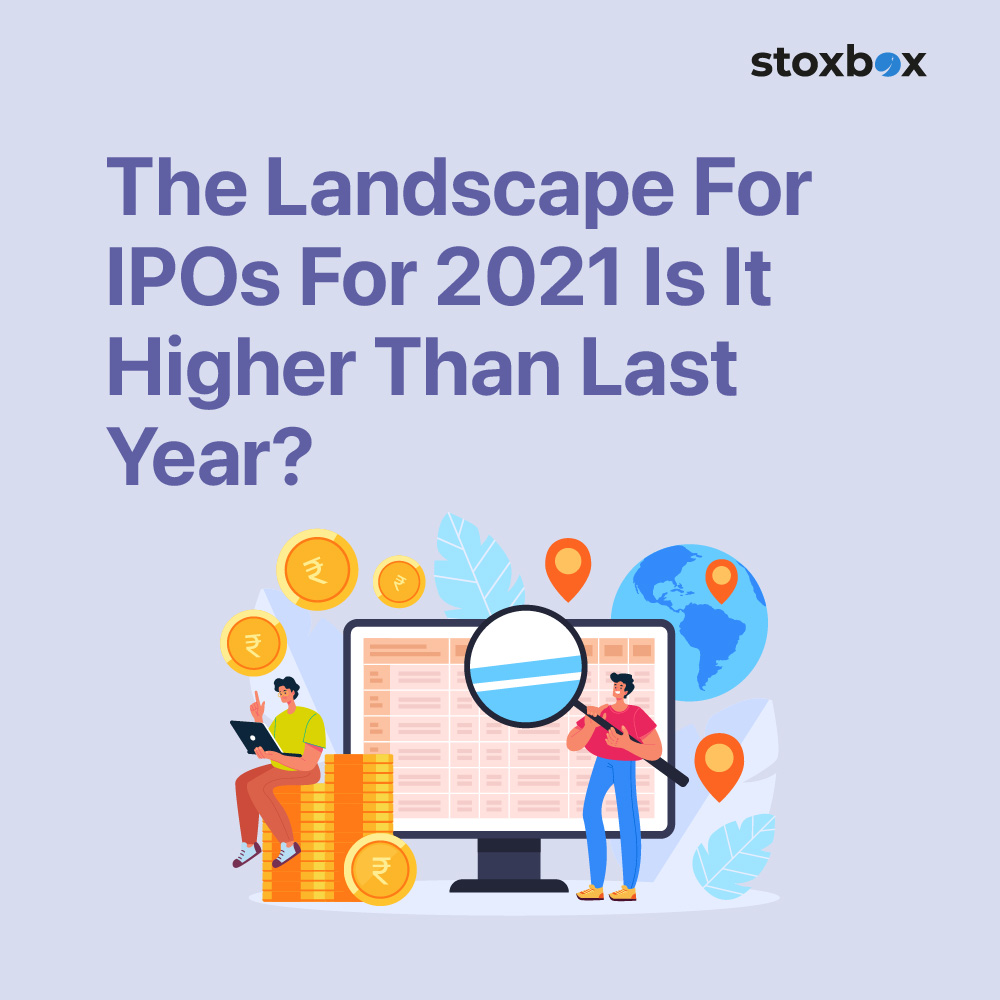 As mentioned earlier, the trend for IPOs is likely to continue. We are already seeing many big companies like Indigo Paints, Kalyan Jewelers, Barbeque Nation, etc., have launched their IPOs in 2021. More companies like Zomato, LIC, etc., are planning to launch their IPOs in India by mid-2021. If you are looking for investments in India, this is an excellent opportunity window for you.
While we adjust to new normalcy amidst the COVID-19 pandemic, the sectors that are expected to grow are healthcare, technology, and IT services stocks. The healthcare sector is crucial in this pandemic, and that is why all the healthcare companies are seeing growth. Technology & IT-related services play essential roles as the market shifts largely to digital space.
Reasons behind so many IPOs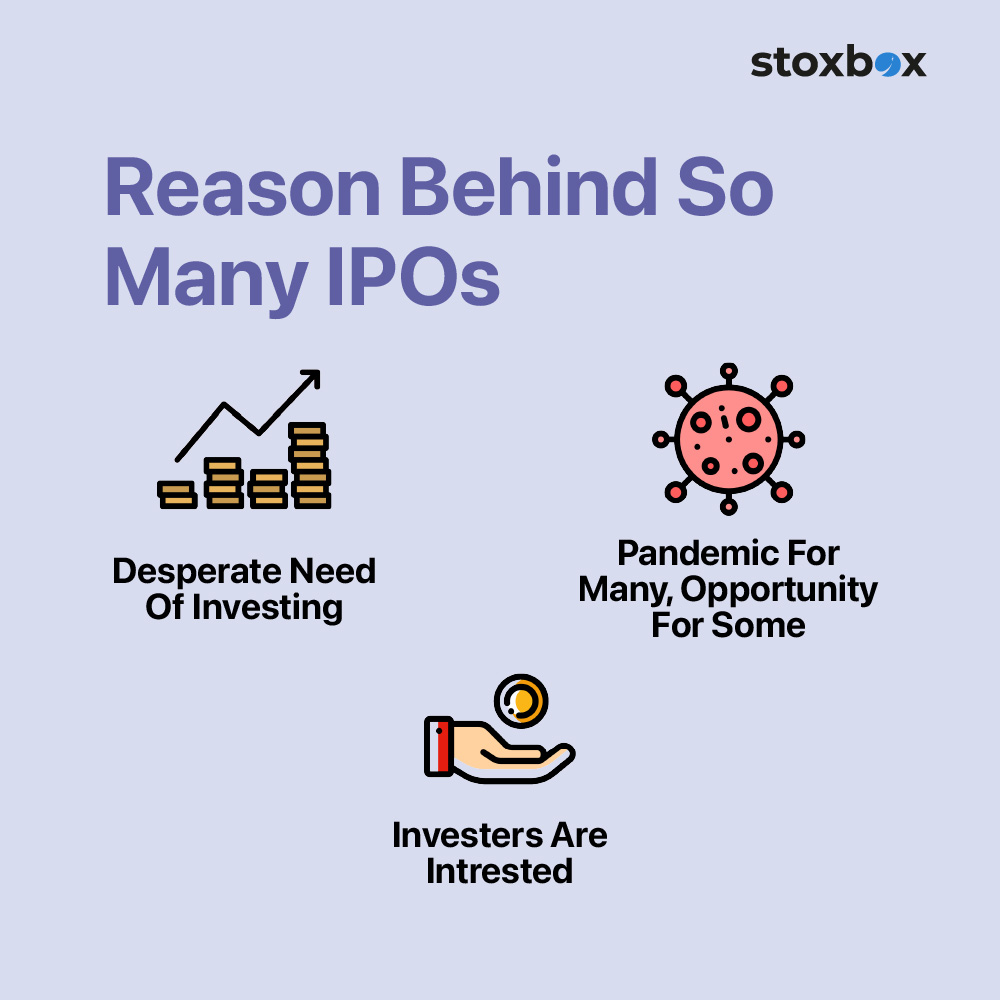 Pandemic for Many, Opportunity for Some:
While the pandemic has brought many businesses to their knees, some sectors saw positive growth like healthcare, technology, and IT services. Another excellent example of how the pandemic turned out to be suitable for a company is Zomato, as we know that it is planning to launch its IPO. It is because the food delivery sector boosted while people were coping with nationwide lockdowns for weeks. Food delivery was the only safe option, and Zomato scored well to bridge that gap. Similarly, tech companies, healthcare companies have also seen a lot of positive growth during the pandemic.
    Desperate Need of Investment:
For the companies that did not grow during the pandemic, it is a matter of survival. As the companies observe losses and pressure from the employees and investors, simultaneously creating a huge crisis. Thus, companies have thoughtfully chosen to go public to get some investments to survive and tackle the emergency effectively. ipo-2020-vs-ipo-2021-india
    Investors are Interested:
Most companies choose to go private because they believe it can bring in more investments from public investors. With the current market scenario, investors are eager to invest in companies to bring good profits. Most of investors believe that the economy will grow at a good pace immediately after the pandemic is over. That is why they are looking for investment opportunities in the sectors with many future potentials.
Biggest Upcoming IPOs in India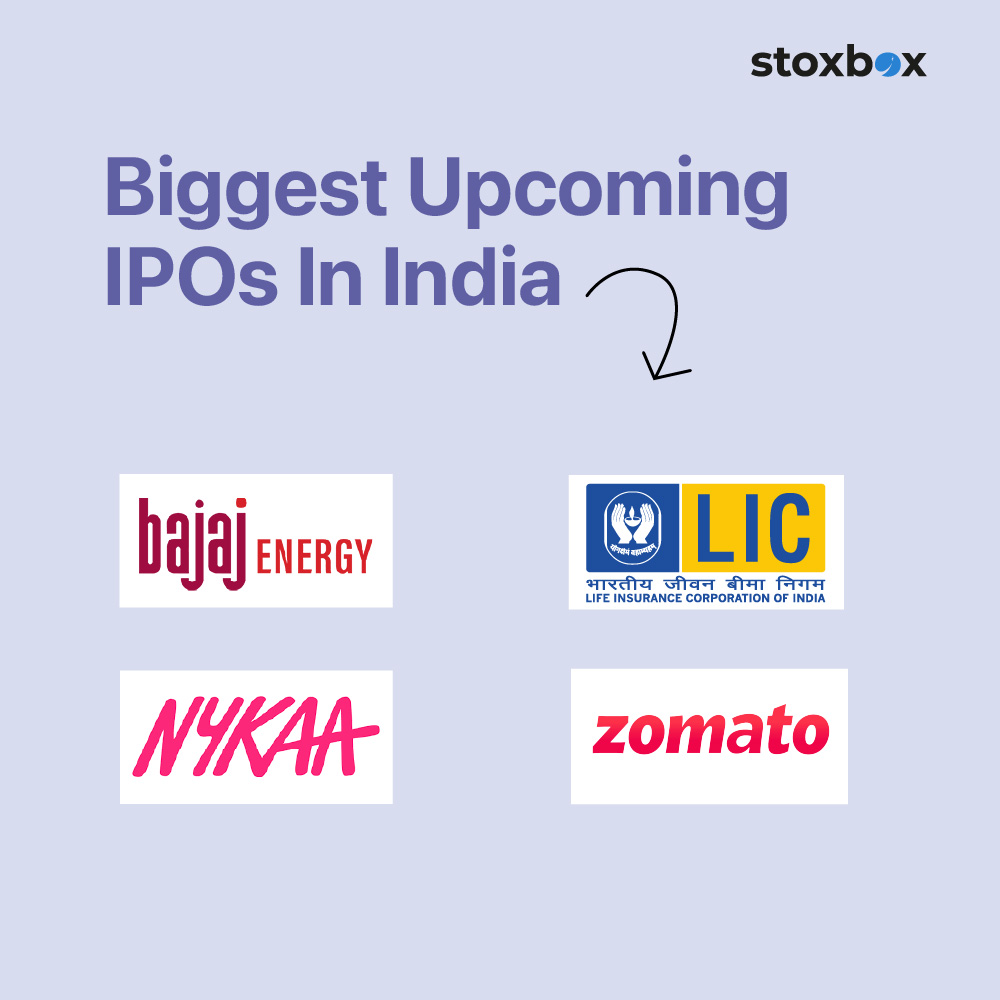 With a good and bright landscape of IPOs in India, some massive IPOs are launching in 2021 and 2022, which can be a good opportunity for investors. Some of the biggest upcoming IPOs in India are:
In the Union Budget 2021, the Finance Minister of India announced that LIC's IPO would be launched in 2021. The issue size for IPO is around 70,000-80,000 Crore INR.
Ipo 2020 vs Ipo 2021 India
It is probably one of the most talked-about IPOs. Zomato's journey is awe-inspiring. It started as Foodiebay, which was just limited to some metro cities; Zomato now operates in about 23 countries. The Zomato IPO is expected to launch soon, and the issue size is approximately 8,250 crores.
Ipo 2020 vs Ipo 2021 India
Nykaa is also looking to make it to the stock exchange. The time frame is expected to be around late 2021 or early 2022. The company is looking to list itself on the stock exchange at a value of USD 3 Billion.
Ipo 2020 vs Ipo 2021 India
We also have Bajaj Energy coming up, and it is one of the prominent private thermal generation companies. The issue size for IPO is expected to be around  INR 5,450 Crores.
Are there any opportunities for investors?
In terms of investments in India, IPOs look quite good, right? However, there are some investment rules one must keep in mind before committing to  IPOs in India. Here are 5 points to keep in mind before investing in any IPO in India.
Understand the business of the company. As mentioned earlier, some companies go public because they want to grow more, and some because they want to survive. Make sure you do not invest in a declining industry.
Do your research and understand why the company is launching the IPO and only invest if the company has scope for growth in the upcoming future.
Research where the company is planning to invest further.
What is the promoter holding, and how is the management of the company. Poor management can push any business to losses.
Make sure that an IPO is not overpriced or overhyped. This is especially the case with companies that are active on social media.
Also, do not entirely depend on the financial statements of any company as the companies start to window dress their financial statements 2-3 years before launching the IPO.
Conclusion
So that was all about IPOs in India. We have given you detailed comprehension of why we are witnessing a sudden surge of companies launching their IPOs in the middle of the pandemic. Local companies are launching their IPOs to earn profits and further business expansion, while others register as a survival tactic. This trend of new IPOs coming is very likely to continue in 2021 as well. With proper research and planning, you can take advantage of the IPOs season and earn a good profit and create a financial portfolio.