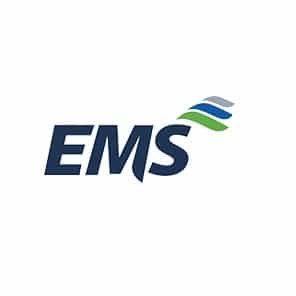 EMS Ltd. is in the business of providing Sewerage Solutions, Water Supply Systems, Water and Waste Treatment Plants, Electrical Transmission and Distribution, Road and Allied Works, operation and maintenance of Wastewater Scheme Projects (WWSPs) and Water Supply Scheme Projects (WSSPs) for government authorities/bodies. WWSPs include Sewage Treatment Plants (STPs) along with Sewage Network Schemes and Common Effluent Treatment Plants (CETPs) and WSSPs include Water Treatment Plants (WTPs) along with pumping stations and laying of pipelines for the supply of water. The company's strength lies in its in-house team for designing, engineering and construction which makes it self-reliant on all aspects of the business. EMS's team of 61 engineers along with third-party consultants and industry experts does the design and engineering of projects, procurement of raw materials, execution at site with overall project management up to the commissioning of projects. In addition to the execution of projects independently, the company enters into joint ventures with other infrastructure and construction companies to jointly bid and execute projects.
The net proceeds from the fresh issue will be used towards the following purposes:
Funding of the capital requirement of the company; and
 General corporate purposes 
Robust order book in the pipeline.
As on July 31, 2023, the company is operating and maintaining 18 projects including Wastewater Scheme Projects (WWSPs), Water Supply Scheme Projects (WSSPs), Sewage Treatment Plants (STPs) and Hybrid Annuity Model (HAM) aggregating Rs. 1,744.9 crores and 5 O&M projects aggregating Rs. 99.3 crores. The company has experience in designing, engineering, construction, operations and maintenance of projects. Its strong technical capabilities, timely performance, reputation for quality, financial strength as well and price competitiveness have enabled it to successfully bid and win projects. Along with the strong order book, the company has got O&M work post the commissioning of projects which provides a steady cash flow and adds significantly to the company's margins.
Strong execution capabilities with vast industry experience
EMS has completed 67 projects since its corporation and the company's focus is to leverage its strong project management and execution capabilities to complete projects in a timely manner while maintaining high quality of engineering and execution. The company's in-house engineering and design team of 61 engineers have the necessary skills and expertise to prepare detailed architectural and/or structural designs based on the conceptual requirements of their contract. Its in-house engineering and design team reduces dependence on outsourcing engineering and design work to third-party consultants and is supported by third-party consultants in EPC contracts. Also, the company's quality control managers and quality surveyors are responsible for conducting regular inspections and tests at every project site and publishing reports on the status of compliance with contractual requirements and quality control monitoring, thereby ensuring quality.
India has 18% of the world's total population, but only 4% of its water resources, making it among the most water-stressed countries in the world. A large number of Indians face high to extreme water stress, according to a recent report by the government's policy think tank, the NITI Aayog. India's dependence on an increasingly erratic monsoon for its water requirements increases this challenge. The World Bank is helping to support the government's national groundwater program, the Atal Bhujal Yojana, to help improve groundwater management. EMS has successfully completed 67 projects as on July 31, 2023, and gradually intends to expand its business operations to other regions of the country, especially North-East and South India. Almost all of the company's projects are World Bank-funded through local state government bodies. This is the main reason for their robust cash flows/timely payments, and no bad debts, which helps them to take on more projects with the help of internal accruals only. As a result, there is savings in the finance cost which helps to improve the profit margin. On the upper price band, the issue is valued at a P/E of 9.1x based on FY2023 earnings, which we feel is fairly valued compared to its peers. We, therefore, recommend an SUBSCRIBE rating for the issue.