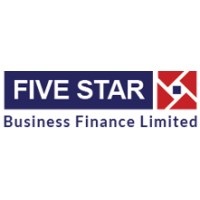 Five Star Business Finance is an NBFC-ND-SI providing secured business loans to micro-entrepreneurs and self-employed individuals. The company is headquartered in Chennai and has a strong presence in south India comprising of an extensive network of 311 branches, as of June 30, 2022, spread across eight states and one union territory. The ticket size of the loans offered ranges between INR 0.1mn to 1mn with an average ticket size of 0.29mn for June 2022. The company's gross term loans are currently at 52,965mn as of June 2022 which is split into loans for business purposes (62.12% of gross term loans) and loans for asset creation and significant economic events (37.88% of gross term loans). Its targets customers in tier-2 to tier-6 cities who typically derive income from "everyday" cash and carry business with a typical focus on services. The company only provides secured loans where more than 95% of the collateral is a self-occupied residential property. The currently has a loan base of 230,175 customers and continues to increase this number while keeping the average ticket size stable. The company secures financing from various sources including term loans, proceeds from loans securitized, and loans from banks and financial institutions among others. The interest rate ranges from 24% to 26% and between tenure of five to seven years.
The IPO proceeds of the fresh issue will be used towards the following purposes:
To carry out Offer for Sale.
Achieve the benefits of listing equity shares in the stock exchanges.
Robust Customer Evaluation Process
The company has developed a robust customer credit evaluation method which is a four-layered process; two within the business and collections team and two layers within the credit team. It conducts an in-depth analysis of its potential customer by considering the 'three C's' viz Character, Cash-Flow, and Collateral to ensure that the customer has adequate ability to repay the loan amount. Also, sourcing of potential customers is 100% done in-house by the company, not depending on any intermediaries allowing better control over the files. Approximately 80% of the files logged in are sanctioned due to strict pre-login practices followed by the company.
Under-penetrated market with large opportunities
The credit market for MSMEs and self-employed individuals is largely in the unorganised sector. According to industry reports, less than 15% of approx 70 million MSMEs in India have access to formal credit in any form. The company has calibrated a strategy for contiguous expansion to penetrate the market by enabling its customers to move into the organised credit market while maintaining strong asset quality. The GNPA of the company is approx 1.12% of the gross term loans as of June 2022.
The general growth in the organised credit market for MSMEs and robust risk management and collections framework provide Five Star with a huge opportunity to expand further. The company's approach to sanction only fully secured loans with SORP as collateral coupled with a focus on strong pre-login assessment minimizes the risk of frequent defaults. Also low cost of borrowings and significant plans to invest in technology and data analytics to improve operational efficiency help the company in the long run. However, disruptions in the sources of capital and default by borrowers remain key risks. On the upper end of the price band, the issue is valued at a P/E of 29.6x and a P/B of 1.2x based on FY22 earnings which we feel is fairly priced and recommend investors to "SUBSCRIBE" to the IPO for the benefit of listing gains.