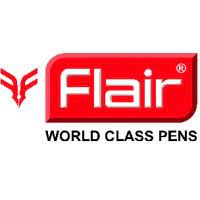 Flair Writing Industries Limited ("Flair") was incorporated on August 12, 2016 and is engaged in the manufacturing and distribution of writing instruments including pens, stationery products, and calculators. The company's flagship brand "Flair" has enjoyed a market presence of over 45 years. Flair manufactures and distributes several brands in India and partners with various international brands in the writing instruments industry. The company's products are sold under the "Flair" brand, their principal brands "Hauser" and "Pierre Cardin" and have recently introduced "ZOOX" in India. The company also contract manufactures writing instruments as an OEM for export and sale in India. They also provide customized corporate gifting products to their corporate customers. Flair manufactures pens and other products from 11 manufacturing plants located in Valsad, Naigaon (near Mumbai), Daman and Dehradun. In FY23, Flair Writing Industries sold more than 130.4 crore units of pens, of which 97.5 crore units (74.8%) of the pens were sold in India while the remaining 32.8 crore units (25.2%) were exported to other countries. Leveraging on their manufacturing capabilities and the existing customer base in the writing and creative instruments business, they have also diversified into manufacturing houseware products and steel bottles.
The net proceeds from the fresh issue will be used towards the following purposes:
Setting up the new Valsad Unit – Rs. 56 crores;
Funding capital expenditure of the company and the subsidiary, Flair Writing Equipments Pvt. Ltd. ("FWEPL") – Rs. 87 crores;
Funding working capital requirements of the company and the subsidiaries, FEWPL and Flair Cyrosil Industries Pvt. Ltd. ("FCIPL") – Rs. 77 crores;
Repayment/pre-payment, in part or full, of certain borrowings availed by the company and their subsidiaries – Rs. 43 crores;
Offer for sale – Rs. 301 crores;
 General corporate purposes.
One of the leading players in writing instruments industry with a diversified product range across varied price points
Flair is among the top three players in the overall writing instruments industry, with a revenue of Rs. 916 crores in FY23 and occupies a market share of approximately 9% in the overall writing and creative instruments industry in India, as of March 31, 2023. Flair is also among the top two organized players which have seen faster growth in revenue as compared to the overall writing and creative instrument industry. The company grew its business at a CAGR of approximately 14% during FY2017-23 period whereas the industry grew at a CAGR of 5.5%. Flair also has the most comprehensive and extensive product portfolio across various price points and consumer segments including pen products, creative and stationery products, calculators. Overall, Flair offered 727 different products at prices ranging between Rs. 5 and Rs. 3,000. The company focuses on providing quality products to consumers, including students, professionals and offices. The company's goal is to cater to consumers in their target segments, from writing instruments priced between Rs. 5 and Rs. 15 ("Mass Segment"), priced between Rs. 16 and Rs. 100 ("Mid-premium Segment") and priced above Rs. 100 ("Premium Segment"). To enhance their brand presence in terms of product pricing, Flair focuses on competitive pricing and aggressive marketing for their Mass Segment and focus on brand building and product differentiation in their Mid-premium Segment and Premium Segment.
Largest pan-India distribution network and strong international presence with focus on exports and partnership
In FY23, Flair had the largest distributor/dealer network and wholesale/retailer network in the writing instruments segment in India, comprising approximately 7,700 distributors/dealers and approximately 315,000 wholesalers/retailers. As of H1FY24, they had 131 super-stockists in India (including Flair Sporty), supported by their sales and marketing employees, and a retail presence in 2,424 cities, towns, and villages in India. Their multi-tiered nationwide domestic sales and distribution network enables their products to reach a wide range of consumers and helps to ensure effective market penetration across geographies. Flair has also established long-term relationships with international companies for which they manufacture and distribute or act as a contract manufacturer. Their relationship with their five largest customers (in terms of revenue contribution) located in the US, UAE, Yemen, Japan, and Colombia averaged approximately 15 years. Their top five export countries were the US, UAE, Yemen, Colombia, and Japan, which contributed 61.19% of the revenue from exports during FY23. As of H1FY24, they had relationships with 54 international distributors for the distribution and sale of their products in more than 77 countries.
Flair Writing Industries Ltd. exhibits a commendable track record of robust and consistent financial performance, showcasing impressive growth across key financial metrics from FY21 to FY23. With a notable CAGR of 77.9%, 992.8% and 133.2% in their topline, PAT, and EBITDA, respectively, the company has positioned itself as a frontrunner in the market. The company's rapid revenue growth, aligned with the geometric expansion in demand, is a testament to its successful market penetration and responsiveness to increased demand, particularly in the school sector. Flair leverages its deep insights into the writing products business, coupled with a diversified product range in a segment characterized by perennial demand. The scale advantage allows the company to maintain cost competitiveness, further solidifying its market position. Additionally, the strategic focus on the home needs sector is anticipated to further bolster sales, underlining Flair's adaptability to diverse market segments. As an stationery entity, the net profit margin exceeding 10% underscores the company's sound financial health. The RoE surpassing 31.2% in the latest year is indicative of efficient capital utilization and robust asset turnover ratio of 1.5 implies above-average asset efficiency. The IPO offers an attractive proposition, particularly considering the EPS of 12.66, resulting in a P/E ratio of 24.01x. The valuation becomes compelling under the assumption of sustained profit growth and when factoring in the intrinsic value of the brand and premium valuation of the FMCG space. In summation, Flair Writing Industries Ltd. emerges as a relatively secure investment opportunity with appealing valuations and we advise a "SUBSCRIBE" rating with a medium to long-term horizon.