What is Stoxbox?
Stoxbox is a Box of investment opportunities which will give you options to select products as per your requirements. It is a diversified portfolio management option where stocks are selected based on the time horizons and various other factors. In StoxBox, products are curated based on the risk and return of your investment. With StoxBox( Thematic Investing), you can choose investment product or trading product or both based on your preference. With the help of Machine learning and the research from our dedicated team, StoxBox will allocate your fund in various stocks from a product you choose. You can choose any number of products based on your objectives.
Why should I subscribe for stoxbox?
Investment ideas and opportunities are growing at an accelerated pace in India. At Stoxbox (Thematic Investing), we create an ecosystem for investors and institutions, which builds low-cost wealth boxes that come in different shapes and sizes and cover multiple themes and sectors. We believe one size most definitely does not fit all. Therefore we bring baskets for every kind of retail investor. The platform offers investors an opportunity to invest in structured investment products that are built on a foundation of in-depth research and powered by the latest quantitative, fundamental & technical research technologies.
How many products does stoxbox have?
Stoxbox (Thematic Investing India Faq) started of with 15 products, but as well believe in curating them as per the client's requirement, Additions to the product list will keep taking place.
When/how can we get access to it?
One will have to open a trading account with BP Wealth in order to access Stoxbox(Thematic Investing).
What is the minimum money needed to invest in stoxbox?
The ideal investment for Stoxbox is 25000/- however it varies from one product to another.
Are there any additional charges/fees?
Brokerage Charges: As per your current brokerage slab
Exchange Turnover Fees: 0.00325% of the traded value
GST: 18% of brokerage & exchange turnover fees
Securities Transaction Tax: 0.1% of the traded value
Stamp Duty: 0.01% (varies with state)
SEBI Charges: 0.0002%
Demat charges per stock (irrespective of quantity/shares sold on one day) when you sell
⦿ CDSL (BP Wealth) demat charges: 13.5 + GST (18%)
⦿ NSDL (IL&FS DP) demat charges: 12.5 + GST (18%)
Will I have to open another demat account to avail this new feature?
No, One will not have to open another demat account in order to avail this feature. A trading account with BP Wealth is mandatory.
Are there any additional documents to be submitted to avail this feature?
No, Additional documents will only be required at the time of opening a new Trading A/c with BP Wealth.
Is stoxbox similar to products like coin/scripbox/smallcases?
No, Stoxbox (Thematic Investing India Faq) is not similar to products like coin/ scripbox / smallcases. It is a completely new product and has unique features which provides complete control on your portfolio.
What is the brokerage charged?
Brokerage Charges: As per your current brokerage slab
What is rebalance?
Rebalancing is a process of reviewing stocks in a Stoxbox to ensure that it continues to perform as intended. Rebalances are done by our research and machine learning team and takes into account fundamental and technical factors, company updates etc, to objectively narrow down on the right stocks.
Why do we need to rebalance?
A user should rebalance their Stoxbox to ensure the stocks in their Stoxbox continue to reflect the performance of the Stoxbox truly, these stocks and their stock weightings are reviewed and rebalanced periodically.
How will I know when to rebalance?
Whenever our research teams rebalance Stoxbox, you will be notified through the mobile application.
What will happen if I don't rebalance ?
You will miss an opportunity to add, sell or any action recommended by our research team. This will directly affect your portfolio performance. We strongly advise you to do the rebalance as and when it is recommended.
Can rebalance take place without an approval?
No, All rebalance require client's approval.
Can I do the entire buy and sell by myself?
No, stocks will be traded on the basis of recommendation from our research team. However, your approval will be taken into consideration for all trades. You can do the exit at any point in time, but we do not recommend you to do that as it will affect the overall performance of your investment.
Are there any lock in periods?
No, there is no lock-in periods to use StoxBox. But calls are given based on the time horizon for each product. We would strongly recommend you not to do a manual exit so that you can get better performance on your investment.
Where can I get the past performance of the products?
The past performance of the product will be made available on the stoxbox website as well as on the mobile application under the stoxbox tab.
Can we subscribe/unsubscribe from stockbox after market hours?
No, One cannot subscribe to the StoxBox after market hours. Stoxbox can only be subscribed on weekdays from 9:15 to 3:30 except holidays.
Partial exit & why we don't recommend?
Partial exit is when a user decides to sell a part of his investment before it reaches the target price.We do not recommend manual partial exit as we believe it hampers the over performance of the product. Opt for partial exit only when it is recommended by our research team.
How to use stoxbox?
Step 1: Click on the 'Discover' section tab within Stoxbox.
Step 2: Look through all the investable products such as IntradayBox, TechnoFunda, etc and click on it to get more product details.
Step 3: Browse through the features of the selected product
Step 4: Click on 'Invest' to start subscribing & investing in that product.
Step 5: Upon clicking 'Invest' the user will be shown a pop-up in which he will be prompted the amount he wishes to invest.
Note: All investments will be in multiples of the minimum investment amount. For example: if the minimum investment amount for the IntradayBox is Rs 25000, the user can invest in multiples of Rs 25000 x 2 or more. Step 6: Once the user clicks on 'Continue' he/she will get a 'Congratulations' pop-up confirming his Stoxbox purchase.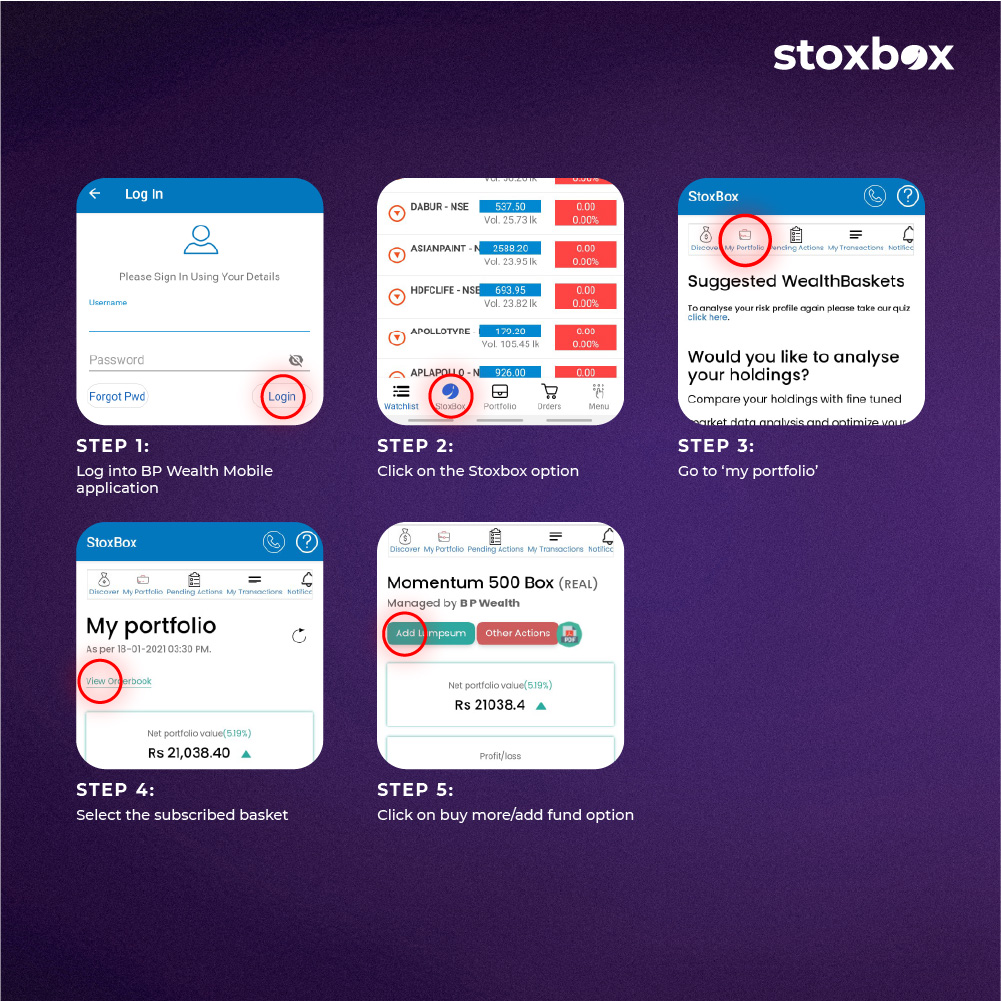 How to add funds onto a StoxBox?
Step 1: Log into BP Wealth Mobile application.
Step 2: Click on the Stoxbox option
Step 3:Go to 'my portfolio'
Step 4:Select the subscribed basket
Step 5: Click on buy more/add fund option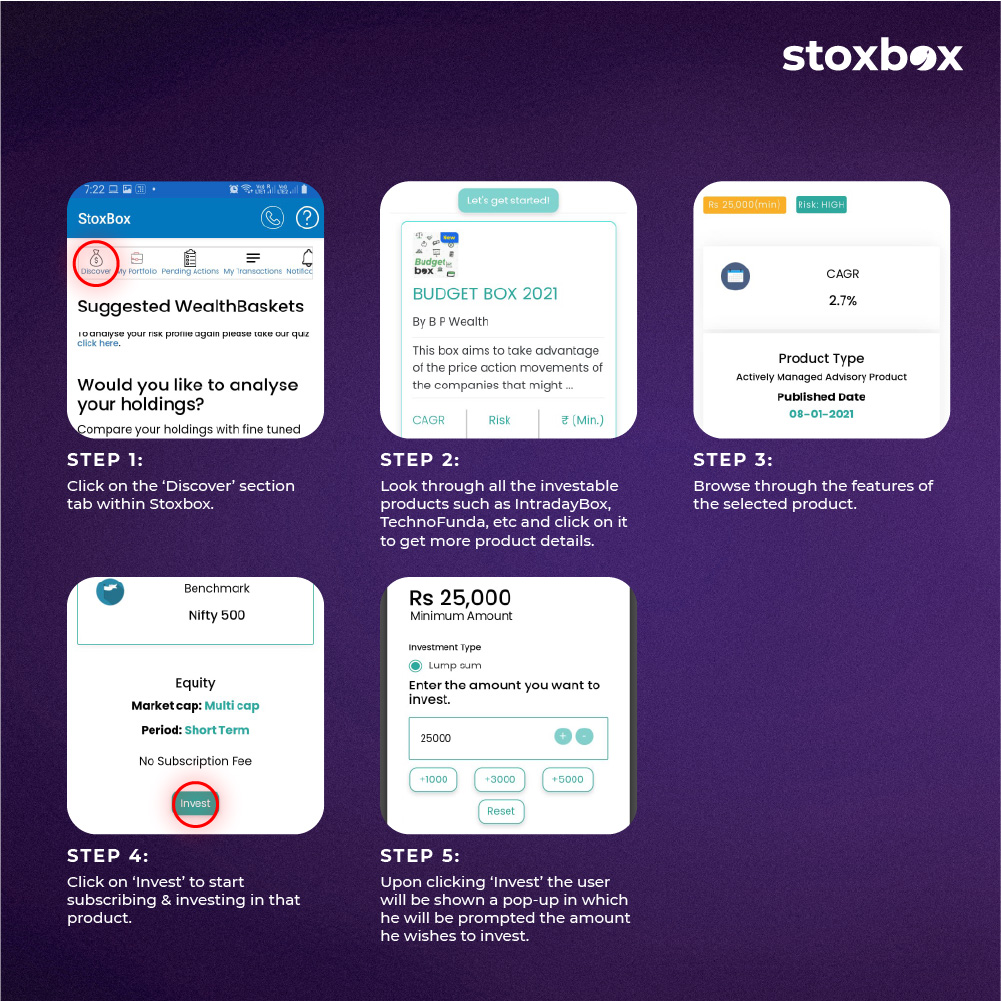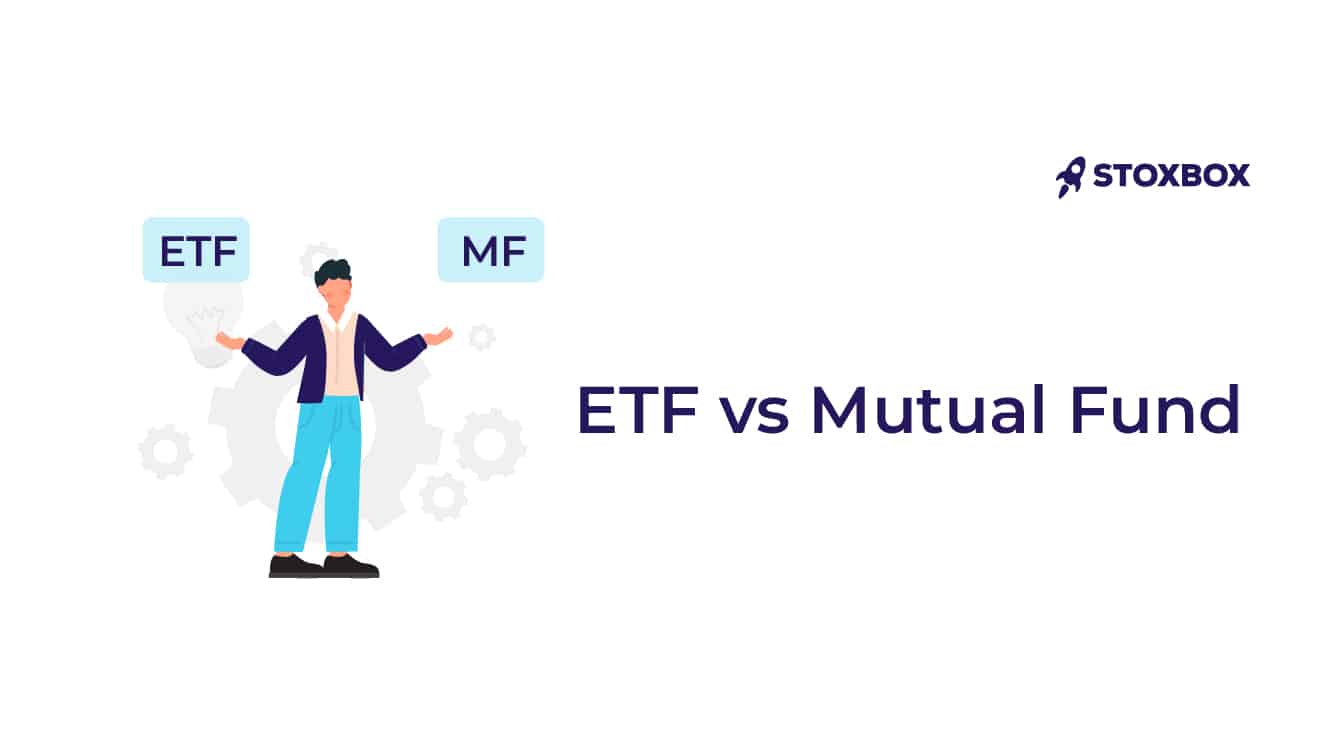 ETF versus Mutual Funds – What is the Difference? Every...