Let's say you believe in preserving the environment and reducing pollution. You are so serious about it that you are doing everything in your power to reduce your carbon footprint. You are also someone who likes investing their money in the stock market. But these two don't seem to be related in any way, do they? What if they were? What if you could bring together your passion for the environment and your interest in stock market investments? If you did, then you would be looking at something called thematic investing.
What is thematic investing?
As the name suggests, thematic investing is investing in companies that are all a part of the same sector. So, you're following a particular pattern while choosing the companies you buy the stock of. Thematic investing can be done using the entire portfolio or just a portion of it too. You may not realise it, but you may be doing thematic investing too. For example, suppose you believe that artificial intelligence and data sciences will be significant in the coming years and start buying companies' stock from these sectors. In that case, you're indulging in thematic investing.
Popular sectors in thematic investing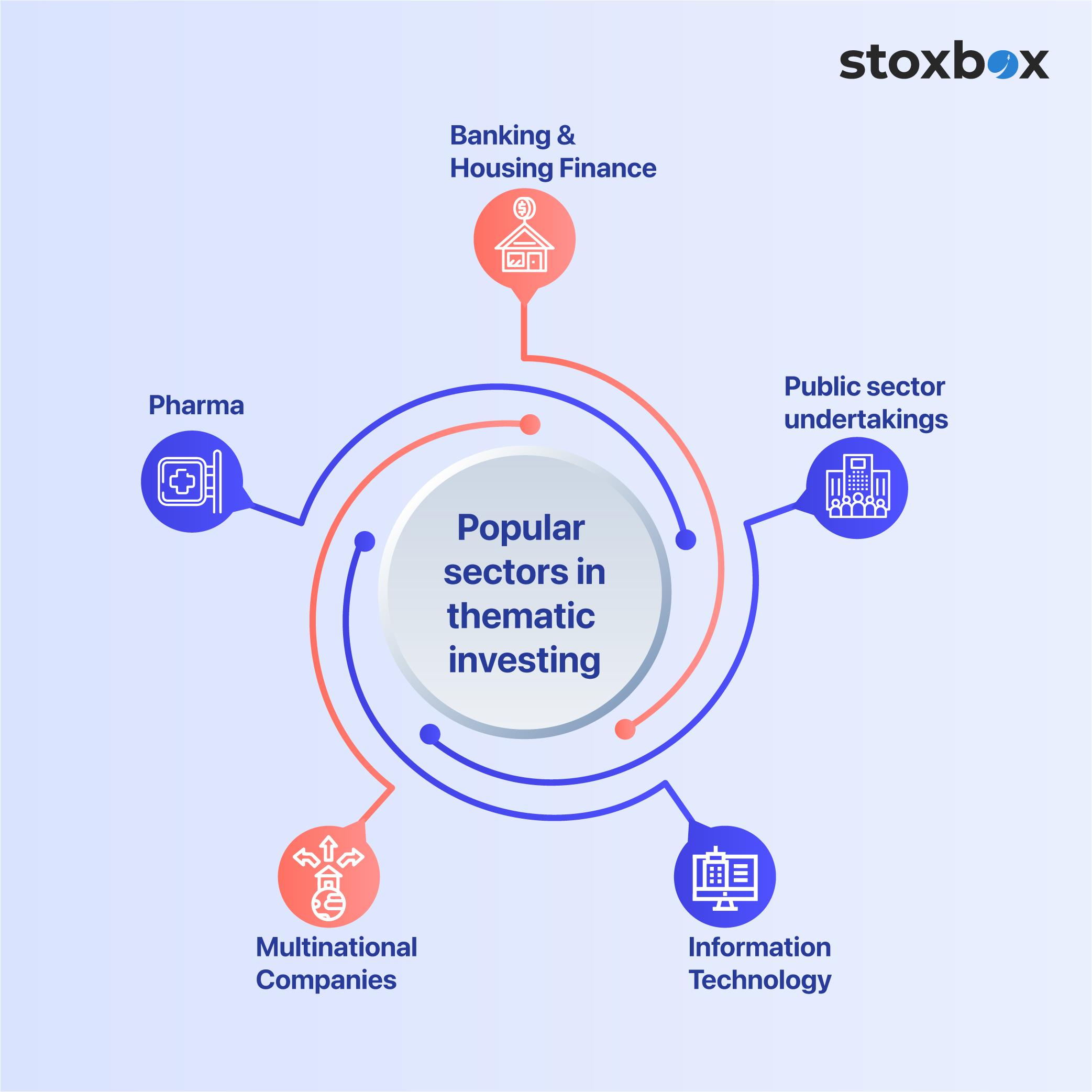 These are some of the most popular sectors that thematic investing in India targets. These sectors tick all the boxes for such investments because they can offer good growth potential and long-term return potentials.
Public sector undertakings
This is a theme that concentrates on investing in companies that are part of the public sector, basically, government-owned companies. The investment horizon for such companies is usually a long term one.
Banking & Housing Finance 
This theme looks to invest in private banks and companies offering home loans. Banking and housing finance are two things that have been growing steadily in India, therefore, making it a good investment.
This is a theme that concentrates on investing in multinational companies operating in India. Such companies are usually characterised by a good brand recall, global reach and consistent returns.
For the past 20+ years, India's IT industry has grown steadily and has been a part of thematic portfolios since the late 90s. Even its contribution to India's GDP has grown from just over 1%, in 1998, to 7.7% in 2017. It is also expected to go up to 10% by 2025.
Investing in Pharma companies is also a theme that has been around for a very long time in India. In 2019 this had a market turnover of Rs. 1.4 lakh crores. It is expected to grow to a US$ 100 billion industry by 2025.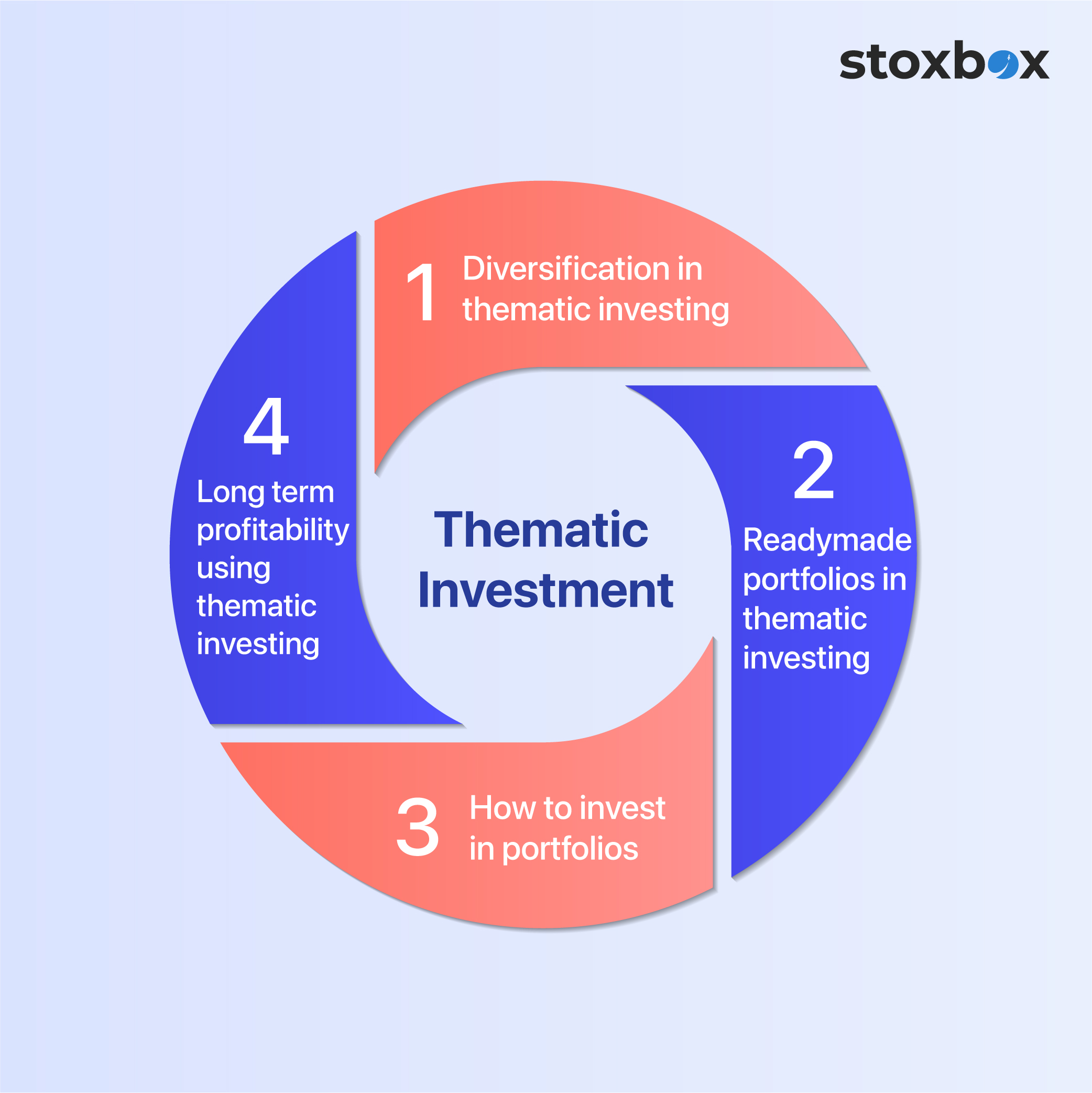 Diversification in thematic investing
A standard thematic fund invests in companies that are from or related to the same theme. This puts them at risk of losses from poor performance if the theme doesn't perform. To counter that risk, some thematic funds may choose to diversify the portfolio. This means a portion of the money will be invested in sectors outside the theme to mitigate losses if the theme fails to perform.
Readymade portfolios in thematic investing
Ready-Made portfolios are collections of companies to invest in that fall under specific themes. For example, if you see a telecom thematic portfolio, all companies will be telecom companies. The advantage of ready-made portfolios is that you don't have to research the right companies for a theme. It's done by analysts creating the portfolio, leaving you free to start investing in it.
How to invest in portfolios
The best way to start investing in thematic portfolios is to start with some research. What you are looking to do with research is to:
      Understand what thematic investing is about
      Identify the themes you want to invest in
      Ensure that the theme is sustainable and can offer returns for the next few years
      Understand what different analysts are saying about the theme you have chosen
      Understand the risks and rewards of thematic investments
If you are well-versed in building an investment portfolio for yourself, you can start selecting the companies you want to invest in based on the chosen theme. If you are not, you can look to ready-made portfolios which match the theme you want to invest in.
Once you are ready to invest, then an excellent place to start is with Stoxbox. Stoxbox is a part of BP Wealth, a company that offers its users the opportunity to open Demat accounts to invest in stock markets. They also provide services like stock suggestions based on both fundamental and technical analysis, among other strategies. They also have apps available for Android and Apple devices, which you can use to trade the markets.
To get started with investing in portfolios offered by them, all you have to do is open an account with them, which you can do in one of three ways. You can create an account online using online KYC, leave your contact details with them or send them the message, "Open", on +91 75062 23627 via WhatsApp or Telegram.
Long term profitability using thematic investing
While thematic investments do offer growth potential, the key to intelligent investment would also be looking at the long term profitability of such investments. Thematic investment can provide long term profitability but only when the theme was chosen has a long life. If the theme runs out of steam or the companies invested in don't perform, you will end up losing. The best way to avoid this is by diversifying a porting of the investment and indulging in periodic rebalancing.
Bonus point:
There is one key difference between thematic investing and regular investing in stock markets. In the regular investment, you look at historical data like past performances, recent trends etc., before investing in the company. But in thematic investing, you are looking at prospects of the theme and the company(s) involved in it.
Thematic investing is a good way of investing in companies that share your beliefs. It offers a way of investing that not only grows your capital but also makes you feel good about it. But don't think it is only about sentiments and feelings. The reason for choosing the theme may be sentiments, but picking the stocks you buy will depend on solid knowledge and analysis. One last thing to keep in mind with this investing style is that it can offer higher rewards, but it also has a higher risk.
For further info or more queries, You can visit our website or download our mobile application for android from the play store and the application for IOS from the Apple store.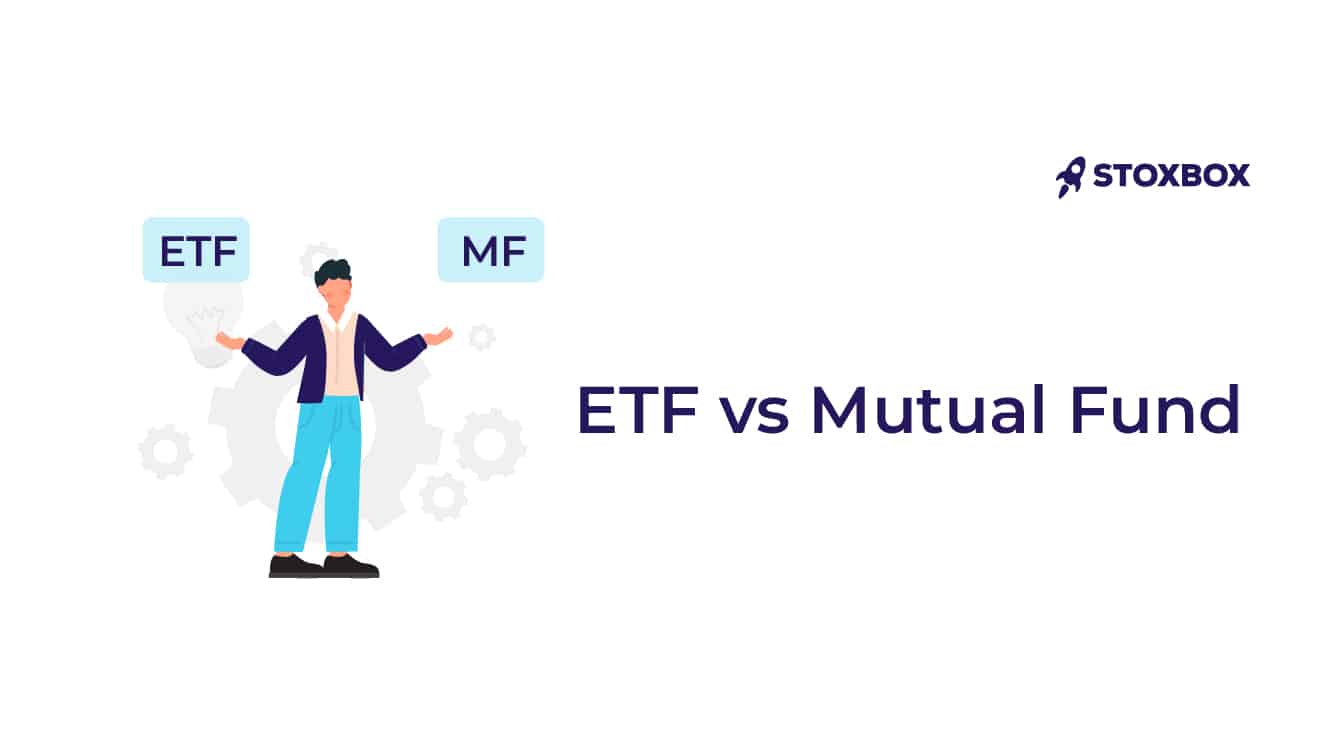 ETF versus Mutual Funds – What is the Difference? Every...