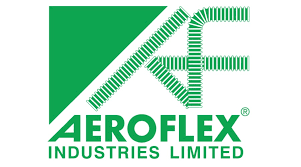 Aeroflex Industries Ltd. (AIL), a subsidiary of SAT Industries Ltd., is engaged in the business of manufacturing and supplying metallic flexible flow solution products which include braided hoses, unbraided hoses, solar hoses, gas hoses, vacuum hoses, braiding, interlock hoses, hose assemblies, lancing hose assemblies, jacketed hose assemblies, exhaust connectors, exhaust gas recirculation (EGR) tubes, expansion bellows, compensators, and related end fittings. The company's flexible flow solutions are made with stainless steel corrugation conforming to BS 6501 Part 1, ISO 10380, and PED CE with diameter sizes ranging from 0.25 inch to 14 inches and designed to handle temperatures levels from negative 196 degrees celsius to 982 degrees celsius and pressure handling capacity of up to 300 bars. The business product offerings (1,700+ SKUs) enable the flow of all forms of substances – air, liquids and solids and cater to a wide range of end-user industries like steel, oil and gas, refineries, fire sprinklers & fire fighting, chemicals & petrochemicals, metals & mining, solar and other industries. The company has a manufacturing facility located at Taloja, Maharashtra. As of March 31st 2023, the export side of the business contributed to 80.6% of the revenue from operations, by serving 217 customers across 51 countries. The remaining business was domestically driven which catered to 506 customers in FY23
The net proceeds from the fresh issue will be used towards the following purposes:
Full or part repayment and/or prepayment of certain outstanding secured borrowings (including foreclosure charges, if any) availed by the company.
Funding working capital requirements of the company.
General corporate purposes and unidentified inorganic acquisitions.
High entry and exit barriers with no listed peers
AIL's customer base includes distributors, fabricators, maintenance repair and operations companies (MROs), and original equipment manufacturers (OEMs). OEMs are subject to tighter regulatory and industry standards with any change in the vendor of the product requiring significant time and expense on their part. This places companies like AIL in a favorable spot and creating an effective exit barrier for the industry. The company provides customized solutions to its customers as per the design and specifications provided by them through its manufacturing facility located in Taloja, Maharashtra which has an installed capacity of 11 million meters per annum. As on 31st March 2023, the company's design and R&D team had a pipeline of 57 products under various phases. Going forward, the business aims to develop its design capabilities to offer upfront design services to customers as well which will further enhance its customer service and allow it to tap into a larger value chain of the flow solutions. Thus, the company's continuous focus on R&D and sound manufacturing infrastructure has enabled it to meet the high volume demands of its customers, leading to high entry barriers for smaller firms.
Diversifying customer offerings, with an increasing focus on international expansion
The company is involved in developing and manufacturing flexible flow solutions made with stainless steel of various grades. Moving ahead, the business aims to further strengthen its domestic and global market positioning by foraying into flexible flow solutions made with other high-end materials which include bronze, polytetrafluoroethylene, haste alloy, inconel, and monel. This will not only aid in increasing its customer base but also in optimizing its operating margins on the way ahead. On the international front, the business aims to expand its presence into geographies such as the USA, Europe, Far East Region, and the Middle East and North Africa (MENA) region by opening up warehouses, distribution centers, and business development offices. The company incorporated "Aeroflex Industries Limited" in 2019 as a wholly-owned subsidiary in the United Kingdom (UK) to create a better presence in its export business.
The global SS flexible hose industry is estimated to be worth USD 25 billion in 2020 with the size of SS corrugated hose estimated at USD 12.5 billion. This is expected to expand to USD 38 billion and USD 18 billion, respectively by 2027. The short-term growth is expected to be driven by the traditional industry segments like manufacturing, automotive, oil & gas (Exploring & Refineries), and HVAC system. Meanwhile, the increasing focus on industries with government support like electric vehicles and renewables (increase in solar power generation capacity) and high precision products like semiconductor and robotic applications are poised to drive the long-term growth of the business. A key monitorable for the business remains the low cost of rubber/ polymer hose which is expected to narrow with increasing awareness of stainless steel corrugation. On the financial front, the business has effectively scaled its operational margins to 20.05% in FY23 compared to 15.43% in FY21 and its debt/equity ratio has declined to 0.39x in FY23 as against 0.9x in FY22. On the upper end of the price band, the issue is valued at a P/E of 41x based on FY23 earnings which we feel is fairly valued given the large headroom for growth. We, therefore, recommend a "Subscribe" rating for the issue.