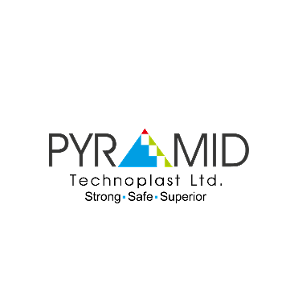 Incorporated in 1997, Pyramid Technoplast Limited is an industrial packaging company involved in the business of manufacturing polymer-based molded products (Polymer Drums) mainly used by agrochemical, specialty chemical, and pharmaceutical companies for their packaging requirements. They are one of the leading manufacturers of rigid Intermediate Bulk Containers (IBC) in India and manufacture 1,000-litre capacity IBC. IBCs are industrial-grade containers engineered for the mass handling, transport, and storage of liquids, semi-solids, pastes, or solids. The company also manufactures MS Drums made of mild steel (MS) used in the packaging and transport of chemicals, agrochemicals, and specialty chemicals. Presently, they have six strategically situated manufacturing units out of which four are in Bharuch, GIDC, and two are situated at Silvassa. The seventh manufacturing unit is under construction at Bharuch, GIDC.
The net proceeds from the fresh issue will be used towards the following purposes:
Repayment and/or pre-payment, in full or part, of certain outstanding borrowings availed by the company;
Funding working capital requirements of the company;
 General corporate purposes.
Long-standing relationships with key customers to accelerate growth
The company caters to bulk packaging requirements of their clients from diverse industries like chemicals, agrochemicals, pharmaceuticals, lubricants, and edible oil by supplying them with Polymer Drums, IBC, and MS drums for packaging. The company has over the years established relationships with various clients across these industries and continues to serve them with product offerings. The clients have stringent quality and qualification requirements which the company is required to follow for continued supply of products. Pyramid enjoys long-term relationships with most of its clients and the repeat business from them allows it to have strong visibility on future revenues and a stable client base. The company has served more than 376 customers regularly during the past three financial years and expected to add more customers to drive revenue performance going ahead.
Comprehensive product portfolio and continued evaluation of organic growth      opportunities bodes well for the business
The company offers complete bulk industrial packaging solutions to their clients since they manufacture both polymer-based bulk packaging drums and IBC, as well as MS Drums for packaging. The product offering in polymer-based packaging by way of drums ranges from 20 litres to 250 litres and IBC which is 1,000 litres.  The company also offers the alternative packaging option of MS Drums manufactured from MS, aiding them to offer and provide alternative packaging solutions to customers as per their preferences and requirements. With the comprehensive product portfolio, the company also plans to explore acquisition of businesses, assets, and machines in new geographies where considerable business opportunities would be available to grow their business. Strategic acquisitions targeted to increase capacity and penetrate new markets will be the focus of the company going ahead.
Pyramid Technoplast is an industrial packaging company involved in the business of manufacturing polymer-based molded products mainly used by chemical and pharma companies for their packaging requirements. The company uses blow molding technology to manufacture Polymer Drums and IBCs. Their products are marketed and sold under the brand name Pyramid. The company also has long-term relationships with distributors both domestic and international, and has multiple vendors for particular components rather than relying on single sources to de-risk themselves from supply chain problems. This allows them to ensure the continued availability of raw materials as well as enables them to secure the best possible prices for their products. The company has a track record of sustained Rev/EBITDA/PAT growth which rose at a CAGR of 23.7%/29.3%/36.9% during the FY21-23 period. On the upper price band, the issue is valued at a P/E of 16.2x based on FY2023 earnings. The high competitive intensity, thin margins and volatility due to commoditized nature of the business (dependent on crude and steel prices) and consistent levels of debt makes us     cautious on the issue. We, therefore, recommend a "Avoid" rating for the issue.