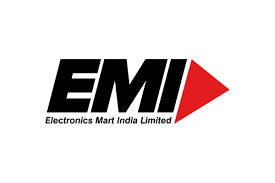 Electronics Mart India Ltd. (EMIL) began operations in 1980 with its first store in Hyderabad. Since then, they are the largest regional organized player in the South of India in revenue terms with dominance in the states of Telangana and Andhra Pradesh and the 4th largest electronics retailer in India. The company operates its business activities across three channels – retail, wholesale, and ecommerce and offers a diversified range of products with a focus on large appliances (air conditioners, televisions, washing machines, and refrigerators), mobiles and small appliances, IT, and others. Currently, EMIL has 6,000+ SKUs across product categories from more than 70 consumer durable and electronic brands. As on August 31, 2022, EMIL had 112 stores of which 100 stores are Multi Brand Outlets (MBOs) and 12 stores are Exclusive Brand Outlets (EBOs). EMIL's 89 MBOs are under the name "Bajaj Electronics", eight MBOs under the name of "Electronics Mart" in the NCR, two specialized stores under the name "Kitchen Stories" which caters to the kitchen-specific demands of the customers, and one store under the name of "Audio & Beyond". The company is present in 14 cities in Andhra Pradesh, 20 cities in Telangana, and 2 cities in the NCR region having a total retail business area of 1.12 million sq. ft
key team members, and board members, company and sector-specific reports, and news events.
The following uses will be made of the IPO proceeds:
Funding of capital expenditure for expansion and opening of new stores and warehouses.
Funding incremental working capital requirements.
Repayment/prepayment, in full or part, of all or certain borrowings availed by the company
General corporate purposes
Strategically located logistics and strong inventory management
The core strength of Electronics Mart India lies in its ability to effectively manage inventory levels across its large warehouses and several individual storage areas. The company's robust IT system and its extensive network of suppliers enable the company to deliver products to customers within a reasonable period. Further, EMIL's strategy of warehousing facilities within the reach of their consumer durable and electronic retail stores allows them to offer cost-competitive prices due to the reduced logistic costs. Currently, the company operates nine large warehouses with an average area
of 28,114 sq. ft. with six warehouses located in Hyderabad, one central warehouse in Vijayawada for the Andhra Pradesh region, and two warehouses in the NCR region.
Business model providing operational flexibility
The company aims to build long-lasting relationships with the customers by emphasizing identifying 'growth pockets' i.e., places in major cities where addressable population density is high. This is done by making a partial investment in the refurbishment of the locations which allows the management to keep the rentals & subsequent annual hikes low. EMIL follows a flexible strategy of owning or leasing the premises according to availability, cost, and other considerations. This helps them in
reduced operational costs and target higher profitability and thus offer products at competitive pricing. As of August 31, 2022, out of the total 112 stores, 93 retail stores are leased, 11 retail stores are owned and 8 retail stores are partly owned and partly leased by the company who makes bearing cages.
The organized market in the consumer durables space is growing rapidly due to changing consumer preferences, expansion of organized Brick & Mortar players, and deeper internet penetration. However, household penetration of consumer durables in India remains much lower than that of many developed and developing nations thus showing significant growth opportunity is available in this segment. Electronics Mart India Ltd aims to continue to increase its store network in its existing clusters
to increase its market share in the Hyderabad, Telangana, and Andhra Pradesh markets and also intends to expand its presence in the NCR region by opening 26 MBOs. The company also focuses on expanding its EBOs, specialized stores, and brand network to provide a better brand-centric and
specialized service experience to the customer. The total store count grew from 71 in Financial Year 2020 to 112 as on August 31, 2022, while the retail business area grew from 0.76 million sq. ft. to 1.12 million sq. ft. over this period.On the upper end of the price band, the issue is valued at a PE of
17.1x based on FY22 annualized earnings, which we believe is fairly priced. Hence, we recommend a "SUBSCRIBE" rating on this issue for the long term.