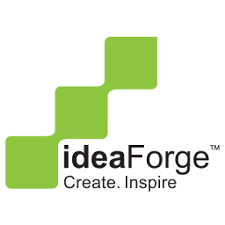 ideaForge Technology Ltd, a manufacturing company offering Unmanned Aircraft Systems (UAS), is engaged in drone manufacturing and deployment with applications across mapping, security and surveillance. The company has categorized its product portfolio into hardware, software and embedded sub-systems. The company offers a broad range of products with feature-based differentiation targeted to serve civil services and defense (dual use). The company's growth in revenue and profitability can be accredited to the robust product portfolio and technology differentiation with a market share of 50% in FY22. Along with this, their drones assist defense forces in conducting intelligence, surveillance and reconnaissance (ISR) operations along borders, help navigate a wide range of mining area planning and help boost construction and real estate. The reach and acceptance of the company's products can be gauged from the fact that an ideaForge- manufactured drone takes off every five minutes for surveillance and mapping on average. Presently, the company has its manufacturing facility in Navi Mumbai, Maharashtra, with in house automation systems, modern technology and advance equipment catering to 100 channel partners and three national distributors as of 31 May 2023.
The net proceeds from the fresh issue will be used towards the following purposes:
Repayment/ prepayment, of certain indebtedness availed by the company.
Funding working capital requirements.
Investment in product development.
General corporate purposes
Market leading position in the Indian UAS market provides headroom for growth

ideaForge is the pioneer and market leader in the Indian 'UAS' market, with a market share of approximately 50% in FY22. Incorporated in 2007, the firm enjoys the first-mover advantage in the market, as it is among the first few Indian firms to enter the UAV industry as well as the first company to design and produce VTOL UAVs domestically in India in 2009. Additionally, they were the first business to take part in the 2018 Indian Mobile Congress demonstration of 5G-enabled UAVs. Their internal design, development, engineering, and manufacturing skills have allowed them to create better products based on changing client expectations, ultimately improving the customer experience. Their capacity to create fully integrated systems and command over the entire stack set them apart from other market participants. Due to their leadership and first mover advantage, they have been able to improve users' experiences by incorporating consumer data and ongoing technological advancements.
Diversified product portfolio catering to a wider customer base provides cushion to  business 

With a wide variety of products, ideaForge differentiates them based on features like weight class (about 2-7 kg), endurance class (25-120 minutes of flight time), take-off altitude range (up to 6,000 metres), communication range (around 2-15 km), payload kinds, etc. Their UAVs are used in a variety of civil and military applications. Additionally, their UAVs may be altered to handle applications in infrastructure, retail, agricultural, and delivery. As of 31 May 2023, the company catered to 265 clients spanning across Indian defence customers and civil customers comprising certain of the central armed police forces, state police departments, disaster management forces, forest departments and private contractors. Over the years, their consistent emphasis on product quality and dependability has resulted in client loyalty.
The business model aids companies like ideaForge to maintain long-term business relations with customers along with attaining healthy margins due to inherently high customer retention (approximately 90% of its revenue attained from repeat customers). The company has all the right ingredients such as the first mover advantage in the drone industry, diversified product portfolio, wide range of customers to sustain business performance in the long run. Moreover, sector tailwinds such as a ban of imports from drone manufacturers opens up a large opportunity for the company going forward. Additionally, as of 2022, the potential market size for the Indian drone industry was approximately USD 2.7 billion, with the Indian drone industry estimated to grow at an 80% CAGR in the FY22-27 period to USD 812 million. On the upper end of the price band, the issue is valued at 82.8x of the floor price. Also, the company's order book value contracted to Rs 192.3 crores inFY23 From R.s 310.9 crores a year earlier, with about 70% of revenues coming from Indian defence forces in FY23. Therefore, we recommend a ''SUBSCRIBE'' rating for the benefit of listing gains.