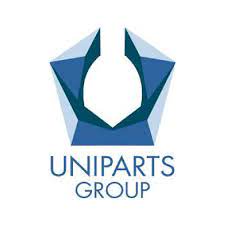 Uniparts India Ltd., established in 1994, is a global manufacturer of engineered systems and solutions. The Company offers systems and components for the off-highway market in the agriculture and construction, forestry and mining ("CFM") segment, and aftermarket sectors to over 25 countries across the globe. It is a concept-to-supply player for precision products for off-highway vehicles ("OHVs") with a significant presence across the value chain. The Company's product portfolio includes core product verticals of 3-point linkage systems ("3PL") and precision machined parts ("PMP"), as well as adjacent product verticals of power take-off ("PTO"), fabrications and hydraulic cylinders or components thereof. Uniparts offer fully integrated engineering solutions from conceptualization, development, and validation to implementation and manufacturing of the products. The Company is a leading manufacturer of 3PL and PMP products and supplies to many reputed global companies. In FY2022, it is estimated that Uniparts commanded a 16.68% market share of the global 3PL market and an estimated 5.92% market share in the global PMP market in the CFM sector, both in terms of value. The Company also caters to the aftermarket segment, especially for the 3PL product range. Uniparts also provide replacements of 3PL parts to organized aftermarket retailers and distributors in North America, Europe, South Africa, and Australia.
The IPO proceeds of the fresh issue will be used towards the following purposes:
To carry out the offer for sale
To achieve the benefits of listing the equity shares on the stock exchanges.
Strategically located manufacturing and warehousing facilities offer scale and flexibility
Uniparts India has 6 manufacturing plants which are strategically located across India and the United States of America. The Company's aggregate installed capacity across these manufacturing facilities is 67,320 metric tonnes per annum as of 30th June 2022. Due to the company's dual-shore capabilities, the company can undertake manufacturing of products at different locations and service customer requirements from alternate locations, providing customers the benefit of regular supply and cost competitive manufacturing operations. The Company has three international warehousing facilities in Germany and the United States that allows it to service and grow in these markets efficiently by becoming a local supplier to global original equipment manufacturers (OEMs). Uniparts' proximity to its
key customer groups provides it with a strategic advantage in ensuring cost-effectiveness, quicker delivery, and faster turnaround times. With the Company's continuous investments in facilities and capabilities, they have been able to develop an efficient, technology-driven manufacturing process that has led them to manufacture products as per the requirements and specifications of the customers in a cost-effective manner.
Enhanced engineering, innovation, and design competence strengthens product portfolio
The Company focuses on process and product innovation and value engineering solutions to meet the requirements of a wider range of vehicles, geographies, applications, and other customer specifications. This has helped the Company to strengthen and diversify its customer and product portfolio. Uniparts' has continuously improved its in-house value engineering, testing, design, and process innovation capabilities through human resource and technical development, as well as exploring opportunities for collaboration and inorganic growth. The Company has continuously worked with its key customers to upgrade and customize the products, in particular, to increase sales of 3PL products in the higher horsepower (more than 60HP) tractor segment and of PMP, hydraulic cylinders and PTO applications.
The global market for 3PL systems (~56% of FY2022 revenues) is expected to grow at a CAGR of 6% – 8% through CY2026, aided by strong global tractor production volumes. With India accounting for about 50% of the global tractor production, we believe that Uniparts India is in a sweet spot to leverage this opportunity going forward. Additionally, multiple business drivers such as fully integrated engineering solutions, long-term relationships with OEMs, the strategic location of manufacturing
and warehousing facilities, global footprint, and geographically diversified revenues should provide further tailwinds to the business. However, an unexpected slowdown in tractor production due to economic headwinds and the company's high dependency on its top customers for revenues continue to remain key risks. On the upper end of the price band, the issue is valued at a P/E of around 15.1x which we feel is fairly valued, given the fact that the company has healthy RoCE and RoAE ratios
(31% and 26.8%, respectively for FY2022) along with low debt. We, therefore, recommend "SUBSCRIBE" to the IPO.