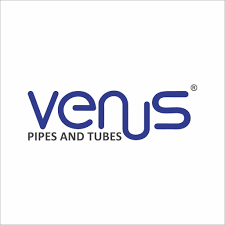 Venus pipes & tubes ltd. was incorporated in 2015. The company is one of the growing stainless steel pipes and tubes manufacturer and exporter in India. Over six years of experience in the manufacturing of stainless steel tubular products in two broad categories are seamless tubes/pipes and welded tubes/pipes under which five categories of products are manufactured namely, stainless steel high precision & heat exchanger tubes, stainless steel hydraulic & instrumentation tubes, stainless steel seamless pipes, stainless steel welded pipes and stainless steel box pipes. The products under which the brand name "Venus" that they supply their products for application in diverse sectors including chemicals, engineering, fertilizers, pharmaceuticals, power, food processing, paper and oil & gas. Venus Pipes & Tubes Limited has one manufacturing plant which is located at BhujBhachau highway, Dhaneti (Kutch, Gujarat) with an installed capacity of 10,800 MT per annum. The company sells products in both domestic and international markets. Venus Pipes & Tubes exports its products to 18 countries including Brazil, the UK, Israel and countries in the European Union, etc.
The IPO aims to utilize the net proceed for the following objectives;
To meet long-term working capital requirements.
General corporate purposes.
Financing project costs for capacity growth, technology upgrades, operational cost optimization, manufacturing facility support, and backward integration for hollow pipe manufacturing.
International Accreditations and product approvals
Currently, Venus Pipes has a total production capacity of 10.8 ktpa, of which 3.6 ktpa is dedicated to seamless SS pipes & 7.2 ktpa for welded SS pipes. The company plans to expand its seamless capacity to 9.6 ktpa and welded capacity to 14.4 ktpa and 9.6 ktpa of new capacity towards backward
integration to manufacture mother hollow pipes. Total capacity would double from 10.8ktpa to 24ktpa. Their products are largely used in industries like pharmaceuticals, food processing, etc. The
GoI has announced Production Linked Incentive ("PLI") schemes for boosting the domestic manufacturing in certain sectors, which shall have a consequent positive impact on their order book. Backward integration with in-house production of hollow pipes, acquisition of slitting machine for cutting steel strips/coils as per desired width and enriched product mix with higher diameter pipes would lead to continued improvement in margins. At the upper end of the price band, the issue is valued at a P/E of 21x based on FY22 annualized earnings, which we believe is reasonably priced. Hence, we recommend a "SUBSCRIBE" rating on this issue for the long term.