What's the Difference Between Thematic Funds and Sectoral Funds?
2020 was a strange year for the capital markets. For the first time, there was a huge upswing in the entry of retail investors into the stock market. The stock market always crashes during recessions, but it recovered much quicker than other business slowdowns in history. Therefore, many good mutual funds were able to deliver decent returns.
Many stocks soared on the backs of growth in the FMCG and pharma sectors. Some touched their lifetime highs in a year when people were losing jobs left and right. However, there was reduced investor confidence in mutual funds with many redirecting the money into retail trading.
As happens with those who try trading without adequate technical know-how, there are plenty of investors with huge losses. These investors are now curious about funds with higher returns, like thematic and sectoral funds. Both are variants of mutual funds.
Thematic Funds
Thematic funds are mutual funds that invest in equity. The stocks making up the mutual funds can belong to diverse sectors but are united by a common theme like Nifty 50, infrastructure development, rural development, smart cities etc.
There are a bunch of SEBI guidelines these funds have to follow to be deserving of their name. Thematic funds should invest 80% of the total asset amount in equity from the same theme. Having low diversification, they are riskier than traditional mutual funds, and thus, investors should develop a good understanding of the economic and political landscape of the theme.
Sectoral Funds
Like the thematic fund, a sectoral fund is a mutual fund with at least 80% of the total asset value invested in the equity of the sector in question. Sectors may be power, PSUs, banking, oil and gas, FMCG, pharma, etc.
SEBI has released some norms for companies to be classified as large-cap, mid-cap, and small-cap as market capitalisation that modifies the sectoral idea slightly.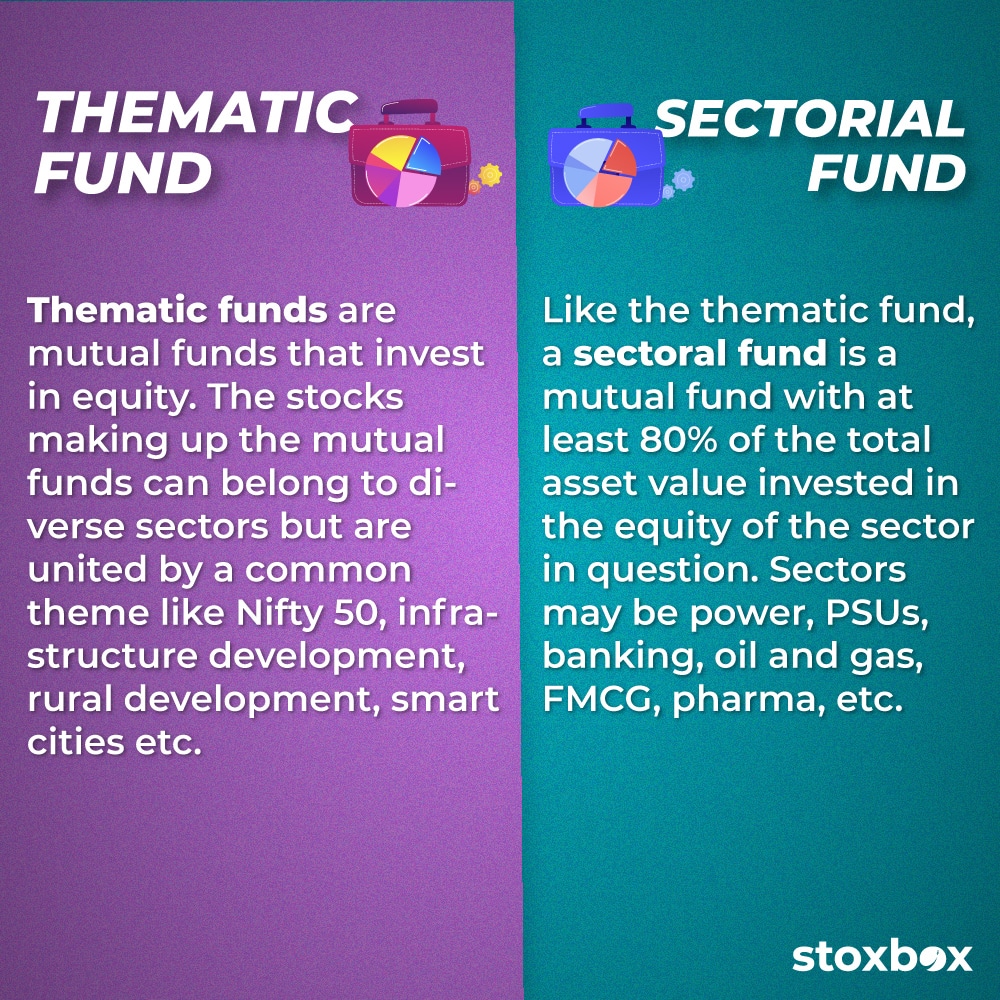 Differences Between Sectoral and Thematic Funds
The main difference between both the equity-based mutual funds is sector vs theme. A theme is about an idea or a specific goal that can encompass multiple sectors.
For instance, an environment-conscious thematic fund portfolio could consist of green energy companies, sustainable packaging ventures, etc. A rural development based portfolio may include NHAI, State Electricity Boards, Reliance Telecommunications etc., to cover road development, electric wiring, internet connections etc.
A sectoral fund would include mostly companies from one sector. For example, StoxBox funds, like the Public Sector Box, include major PSUs, and likewise, the Pharma Box comprises big pharmaceutical firms.
Thematic funds can, therefore, be more diversified than sectoral funds and a little less risky. However, the investment period of thematic funds maybe 5-7 years compared to 3-5 years for most sectoral funds.
Advantages of Sectoral and Thematic Funds
Thematic and sectoral funds help investors take advantage of emerging and undervalued opportunities. There may be disruptive trends in some sectors or themes such as growth in renewable energy use or a transition to advanced communications technology, generating profits. With thematic funds, investors can get a share of such growth yields. Traditional mutual funds may not buy units of such companies.
Thematic or sectoral investing may hedge your portfolio. Hedging means safeguarding against losses. This is one reason why all experts recommend diversifying investments. Typically such investment instruments consist of derivatives and debt securities, but for people who have more debt than equity, thematic funds can be a good choice.
Sectoral and thematic funds have the potential to generate higher than the average return of mutual funds if one enters at a time of growth. They may also have the option of exiting more easily than mutual funds with lock-in periods.
These funds are managed by highly experienced finance professionals who regularly review the weightage and equity basket. They use some of the latest analytical techniques to maximize the generation of consistently high returns. Despite that, interested buyers are advised to do their own research to ensure that they are well-aware of the vagaries of the financial markets.
Who Can Invest in Thematic and Sectoral Funds?
These funds are recommended for those who have some experience with investing in mutual funds. Those who have learned some basics of the stock market and have studied the sectors or themes a little would do better than rank beginners. Alternatively, retail investors who have low confidence in their ability to pick winning stocks can also choose thematic and sectoral funds.
The entry-exit timing is critical in these funds and is subject to the business cycle. Interested investors should be vigilant and know when to exit.
In conclusion, thematic and sectoral funds are a good option for those looking for some guided investments to gain higher returns. StoxBox is an easy, intuitive app that can be downloaded from the Play Store or Apple Store and brings a range of well-designed thematic and sectoral funds to aspiring investors.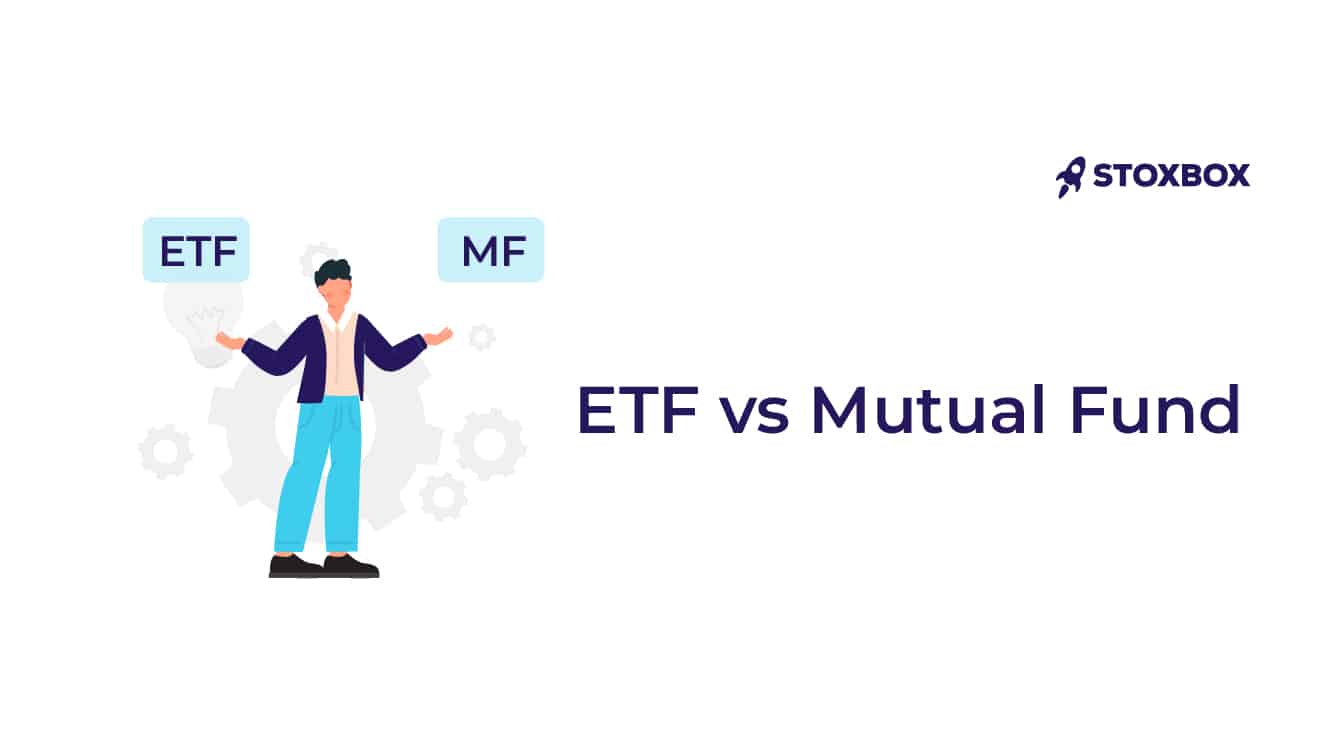 ETF versus Mutual Funds – What is the Difference? Every...