Thematic Funds Examples
Investors have their own strategies to navigate their way through the stock market and mutual funds in order to build a solid portfolio. One of these strategies is known as thematic investments, which is nothing but consciously investing in an underlying theme. It is a well-diversified portfolio that does not limit its investments to the companies involved only in one sector but is a combination of a bunch of stocks and shares from companies doing business across multiple industries.
Examples of Thematic Funds 
Money pooled from different investors and invested in stocks and shares of various companies is known as a mutual fund. The corpus created is usually managed by asset management companies.
However, when this investment is concentrated on the stocks and shares of a particular type of company or sector, it is known as a thematic mutual fund. The portfolio consists of assets of multiple sectors revolving around one single theme.
For example, an infrastructure theme fund will invest in companies and sectors dealing in cement, steel, power, etc.
Similarly, companies or sectors that have performed well in terms of environmental, social, and governance aspects will fall under the umbrella of an ESG thematic fund. Some of the thematic fund examples from different sectors can be financial services, FMCG, technology, consumer durables, etc.
The basic concept behind thematic funds is that all investments are made, keeping an underlying theme in mind.
Thematic Funds Examples
Key Characteristics of Thematic Funds
Thematic investing is different from conventional modes of investing. For example, you can make mutual fund investments based on market capitalization (large-cap, mid-cap, small-cap).
It can also be done based on investment styles (value and growth) or can typically be based on a sectoral theme (technology, infrastructure, financial services). Thematic funds invest across different market caps and sectors as long as it relates to one theme.
According to SEBI guidelines, thematic funds must remain invested by up to 80% in the stocks of a predetermined theme. This investment can be across multiple sectors too.
Thematic funds are more diversified than sectoral funds, as the investment is spread across more than one sector. This makes thematic sectors less risky and volatile than sectoral funds. Even if one sector does not perform well, the fund balances out the risk because of the presence of stocks of other sectors.
The sole objective of thematic funds is to expose investors to the opportunity to invest in sectors of one particular theme with solid growth potential.
Investments in thematic funds can fetch huge returns if the particular theme shows promising growth. However, it's not very easy to always hit the right spot when selecting mutual fund themes. This needs a lot of detailed analysis and keeping an eye on the latest news and headlines.
Popular Themes in Thematic Investing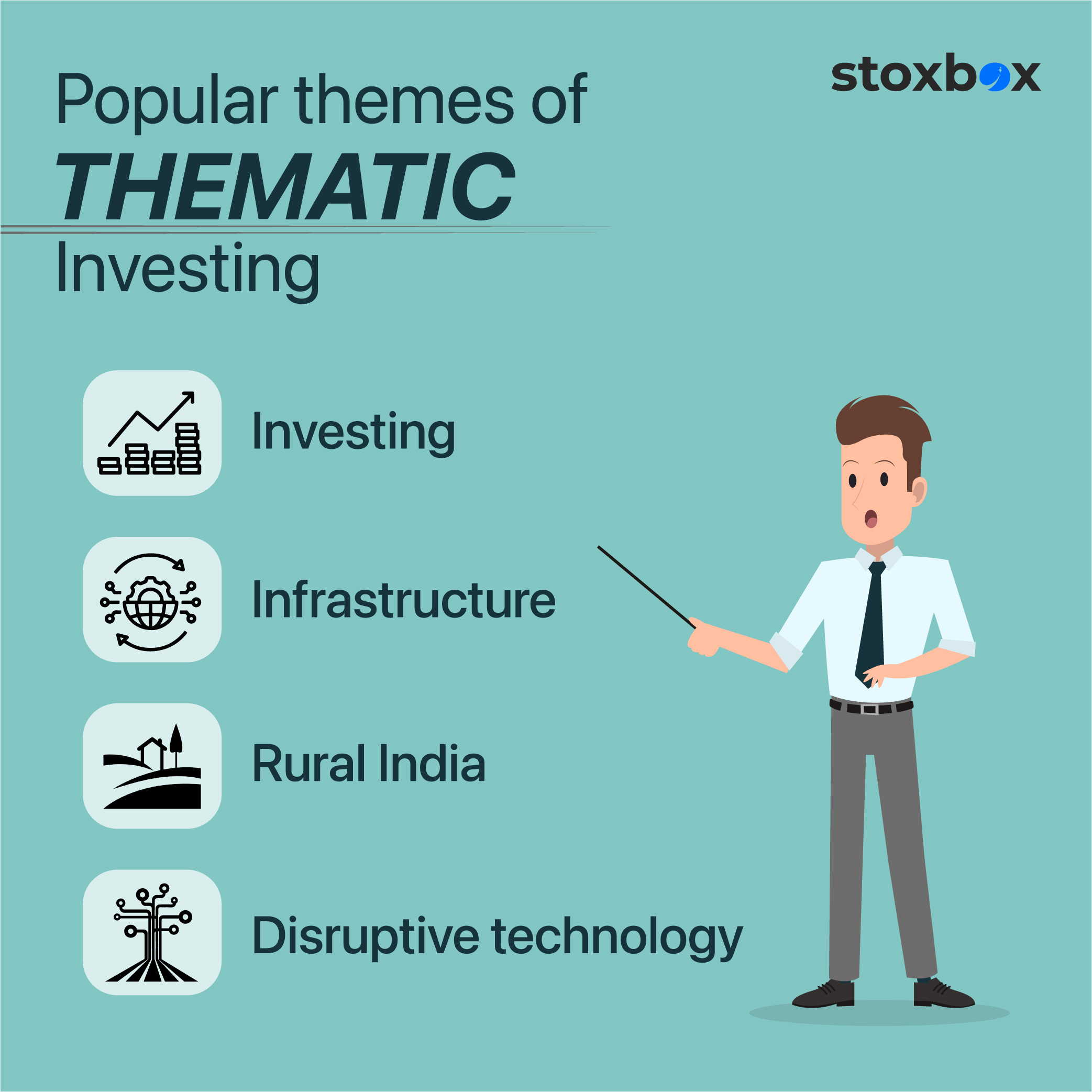 Healthcare: 
Healthcare as a theme has shown an upward curve, especially since the recent Coronavirus pandemic and the stock prices of healthcare companies spiralled due to several reasons. Some of these are an increase in the aging population, innovation in the healthcare domain, changing lifestyle, a better healthcare delivery system etc. Therefore, a thematic investment based on healthcare themes can fetch huge returns. Investors can look at Stoxbox's Pharma Box, which is a tracker fund investing in stocks of pharma companies that have shown to generate consistent returns, growing at a CAGR of 22.68%.
Infrastructure:
Companies directly or indirectly involved in the business of infrastructure development are covered under infrastructure thematic mutual funds. Market conditions at the macro-level such as government policies, real-estate guidelines, can govern the fate of this theme and can reap great returns in the long run. Core Box is a great investment product that includes fundamentally strong companies with strong management capabilities focusing on multi-cap categories.
Rural India:
Rural India is a theme to watch out for in the year 2022
. Almost all the companies are ramping up their rural initiatives with an intention to connect rural India and take advantage of the huge population that majorly resides in the rural parts of India. There is also a strong push from the government towards 'Atmanirbhar Bharat' and 'Make in India' initiatives, which is warming up the conversations in rural India with regards to investments and local manufacturing. Bharat Box from Stoxbox focuses on the manufacturing sector in India and consists of stocks that stand to benefit from the theme of promoting manufacturing in India.
Disruptive technology:
Disruptive technology is at the forefront today, with amazing things happening all around—new and innovative technological trends such as big data, robotics, bitcoin, artificial intelligence etc. Thanks to globalization, new and improved technologies are being adopted across industries and sectors around the world. One of the best ways of leveraging this technology is to invest in a thematic fund based on such technologies. Digital Box from stoxbox is a thematic fund that invests in stocks of companies most likely to benefit from such digital initiatives. With a CAGR of 24.96%, the product uses Nifty IT as its benchmark.
All the boxes offered by Stoxbox come with a minimum investment limit and are great for new investors.
Thematic Investing: A Better Way to Invest
The thematic investing strategy aims to analyze the macro-level trends slated to occur in the near future or the longer term. Based on these trends, the businesses and sectors that stand to benefit are kept in focus.
A successful thematic strategy involves being aware of these trends and investing in underlying businesses and sectors. These shifts or economic changes need to be identified by continuous monitoring and an investment strategy based on which theme will perform better.
Thematic investing is a better way of investing as it is forward-looking in nature. It aims to capitalize on future trends and helps to invest in businesses of the future.
An investor who likes to harbor a good business understanding and knowledge of how different market sentiments work in response to current ongoings will stand to benefit by following a thematic way of making investments.
Why Your Portfolio Should Go Thematic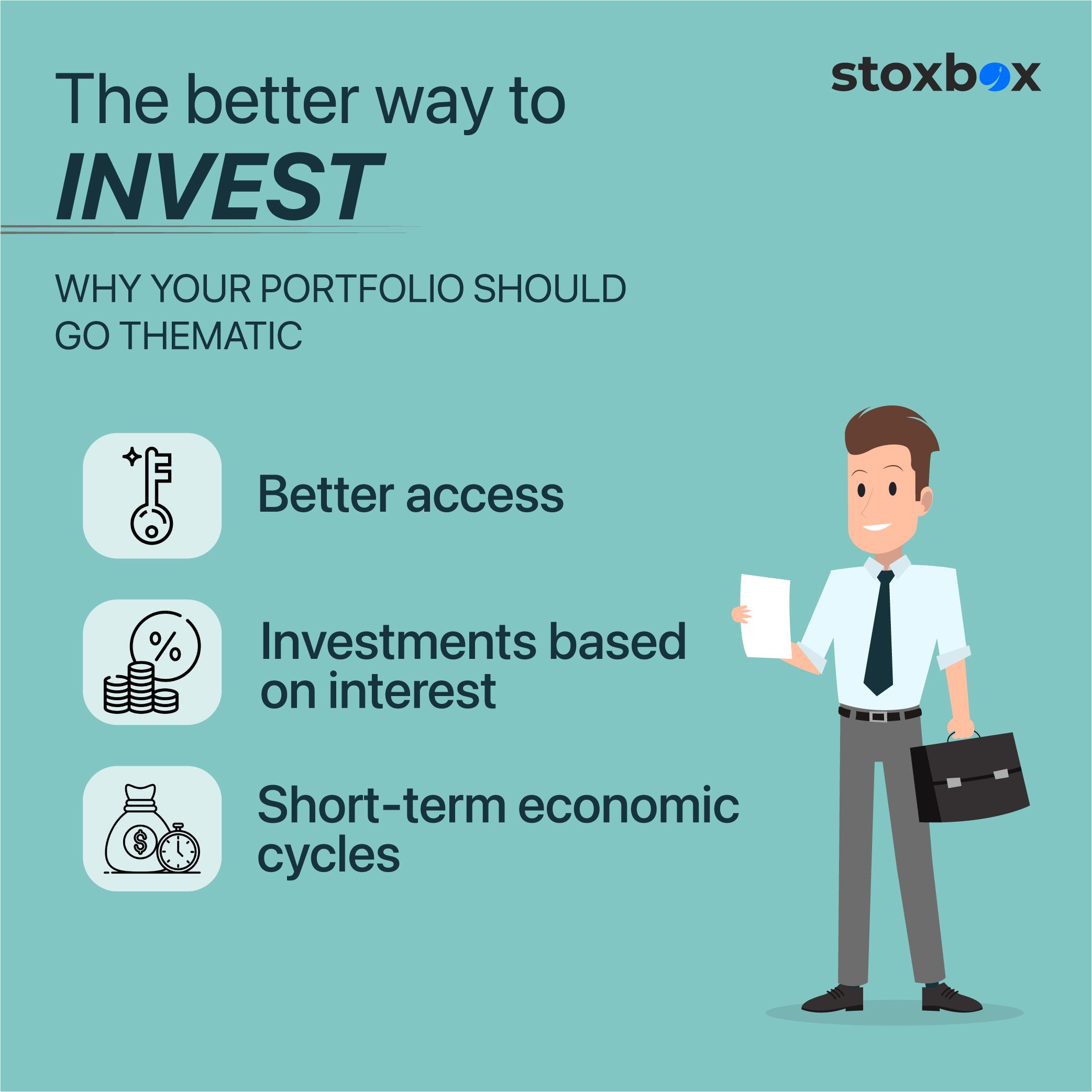 Here are some of the compelling reasons why your portfolio should be thematic:
Better access
Thematic investment opens doors to investment opportunities with multiple companies. Investors can bank upon thematic ETFs that track indexes and look out for high-risk exposure companies. With a single trade, investors get better access to a plethora of companies engaged in different businesses at one time.
Investments based on interest
By default, those investing in thematic funds tend to have a natural interest in the ideas and trends related to that theme. Therefore, it fares well on your investment portfolio as you end up making smart investing decisions backed by first-hand experience and in-depth knowledge of the same theme. It acts as a great pull factor when you invest in a theme that personally interests you.
Short-term economic cycles
As a rule, thematic investment involves focusing on the macro-level trends and global changes rather than focusing on short-term economic cycles. This means that the companies included in your thematic portfolio are less likely to get affected by regional economic downturns, keeping you safe from such volatile cycles.
It is best to take advice from a financial advisory firm or a mutual fund house that best understands your risk appetite, time horizon, and other financial constraints before investing in thematic funds.
Stoxbox is a one-stop shop for all your thematic investment needs. With a host of pre-designed boxes that focus on growing themes that fetch good returns for their investors, Stoxbox has you covered. You can also download our mobile app here.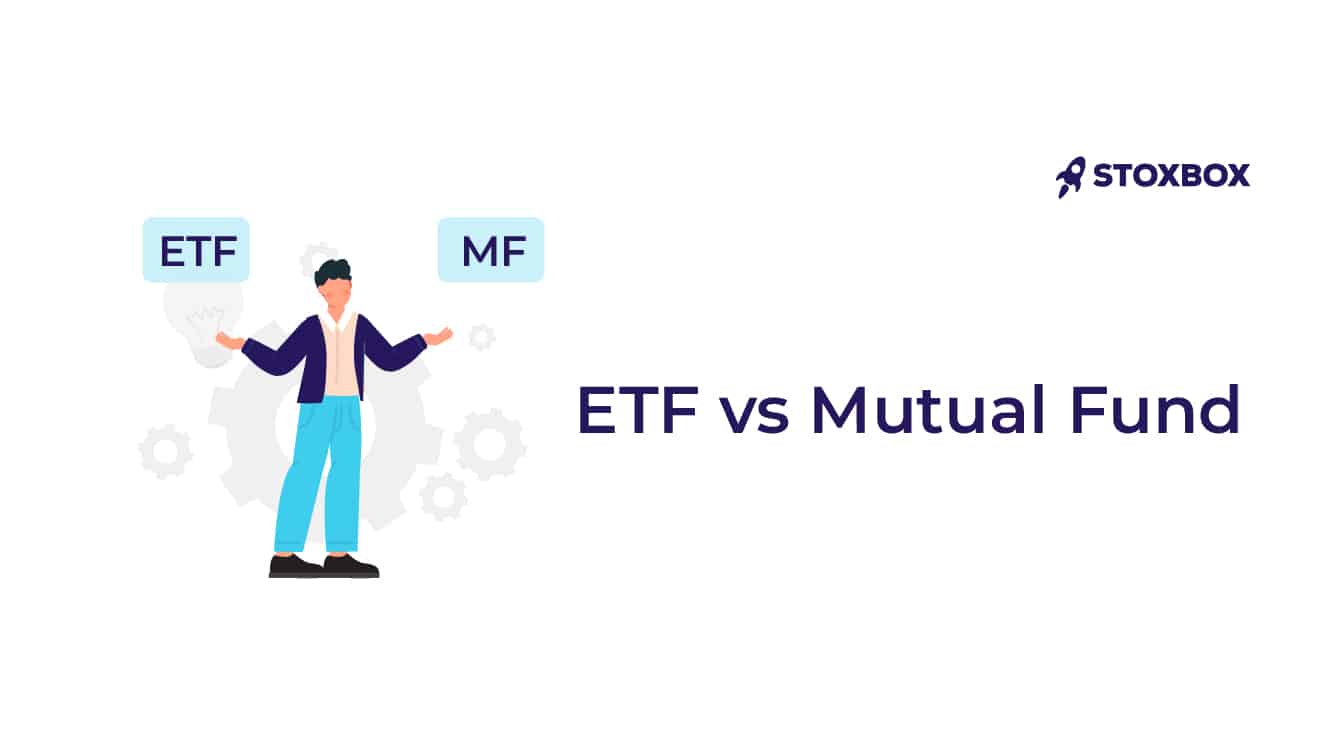 ETF versus Mutual Funds – What is the Difference? Every...