Thematic Funds India
The Union Budget 2021 stressed considerable development in the infrastructure of the country. After the announcements, infrastructure has become the buzzword in the economy. If you also want to reap the maximum gains from the latest economic trend, you can resort to thematic investing and maximize your wealth through exposure to the market's trending segment.
Do you know what thematic investing is all about? Let's have a look:
What is Thematic Investing?
Thematic investing is a type of investment strategy wherein you identify broad macro-level trends in the economy as well as the businesses that would profit from such trends. Then, you invest in such businesses intending to generate returns when such trends materialize. Thus, thematic investing is predicting and investing in long-term trends that can potentially change the entire industry. It is a top-down approach to investments that uses macroeconomic trends and identifies profitable investment avenues.
What are Thematic Funds?
Thematic funds are the vehicles of thematic investing. They represent a particular theme and invest in assets of businesses that represent the theme. For example, if 'infrastructure' is your preferred investment theme, you can invest in the theme through infrastructure funds. Infrastructure funds would have stocks and securities belonging to companies engaged in the infrastructure industry like power, construction, steel, etc.
Features of Thematic Funds
Here are some common features that thematic investing encompasses:
Thematic funds follow some common themes, which include the following:

Environmental, Social, and Governance (ESG)
Rural India
Healthcare
Disruptive Technology, which includes AI, ML, Blockchain, Data analysis, etc.
Infrastructure
Make in India
Affordable Housing
Indian Millennials, etc.
Thematic funds might invest in stocks, ETFs, and other securities issued by businesses.
When you invest in one thematic fund, you get exposure to different types of businesses that have a vested interest in the common theme.
Thematic funds are managed by professionals.
You can also invest yourself through stocks of businesses representing a common theme rather than investing through thematic funds.
Advantages of Thematic Funds India
Here are some of the benefits that you can get if you choose to invest using the thematic approach:
Thematic investing is not limited to investing in one or two types of businesses. It encompasses different types of business sectors, provided that such sectors resonate with the selected theme. Thus, you can diversify your portfolio by investing in different companies in different sectors brought together by a common theme. Moreover, you can choose multi-asset class thematic funds for further diversification.
If you choose to invest in thematic funds, your investments would be managed by expert fund managers who know how to select the right assets for maximum wealth creation. You just have to identify the theme you want to invest in, and the theme portfolio would be created by experts. Thus, thematic investing suits beginners too who have limited knowledge of the financial markets.
Potential for long-term returns
When you identify a trend that has the potential to shift the industry in the coming years, you can unlock the potential of long-term returns. As the identified trend materializes over the years, your investments can reap the returns when businesses affected by the trend become popular and valued. Thematic funds, therefore, have a long-term vision and allow you to invest in the future.
Potential for generating an alpha
Thematic investments usually beat their benchmark and provide higher returns over the long term. This allows you to generate alpha and grow your wealth.
Difference Between Thematic Funds and Sector Funds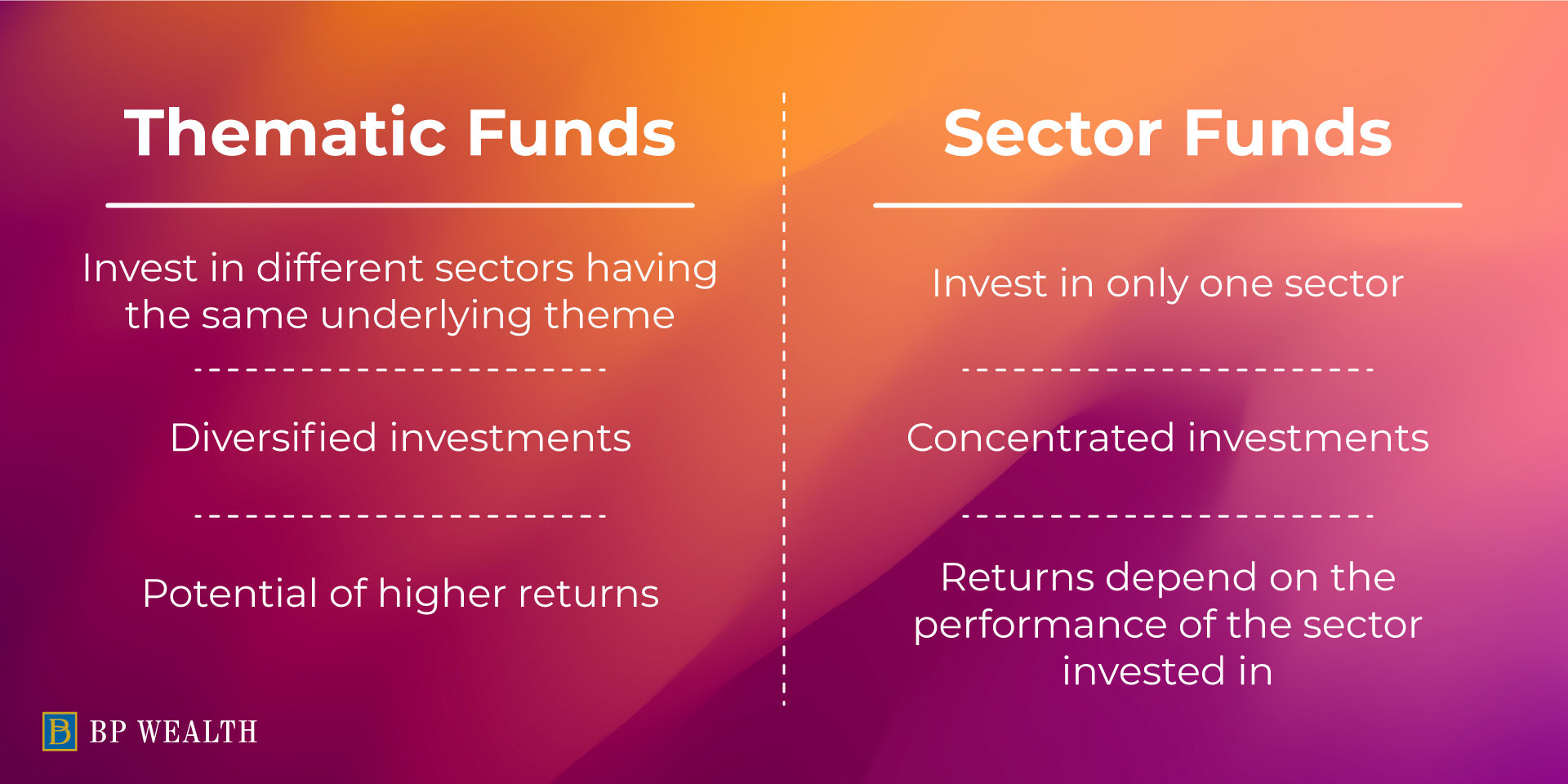 Thematic Funds India are often confused with sector funds, although they are quite different from one another. The main difference between the two can be highlighted through the fact that sector funds are subsets of thematic funds. This means that while sector funds invest only in a particular sector, thematic funds invest in different sectors belonging to a common theme.
If we take the example of the infrastructure theme, a thematic fund will invest in the power sector, construction sector, banking sector, iron and steel sector, etc. On the other hand, a sector fund would invest in one particular sector: power, iron and steel, finance, or construction.
The difference can, therefore, be highlighted as followed: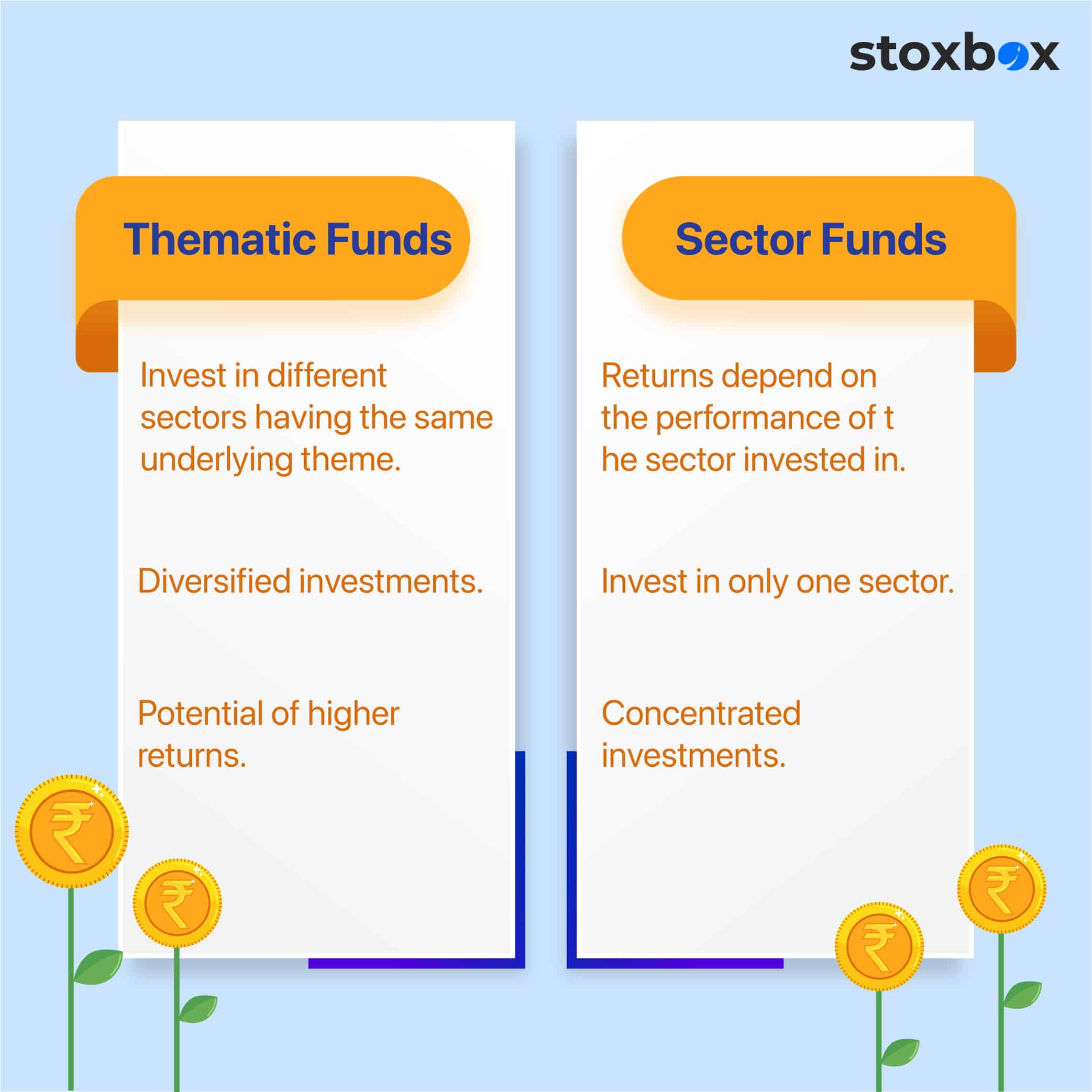 | | |
| --- | --- |
| Thematic Funds | Sector Funds |
| Invest in different sectors having the same underlying theme | Invest in only one sector |
| Diversified investments | Concentrated investments |
| Potential of higher returns | Returns depend on the performance of the sector invested in |
Investing in Thematic Funds in India
If thematic investing is what you desire, you can also choose to invest thematically through StoxBox, which offers you a readymade basket of assets underlining a specific theme. Created and managed by expert fund managers, each StoxBox gives you exposure to assets that are selected, weighted, and customized using intensive research. By identifying possible profitable themes, various StoxBoxes have been created to match your investment beliefs and strategies. So, download the BPWealth App on your Smartphone through Google Play Store or Apple Store and start your thematic investment journey.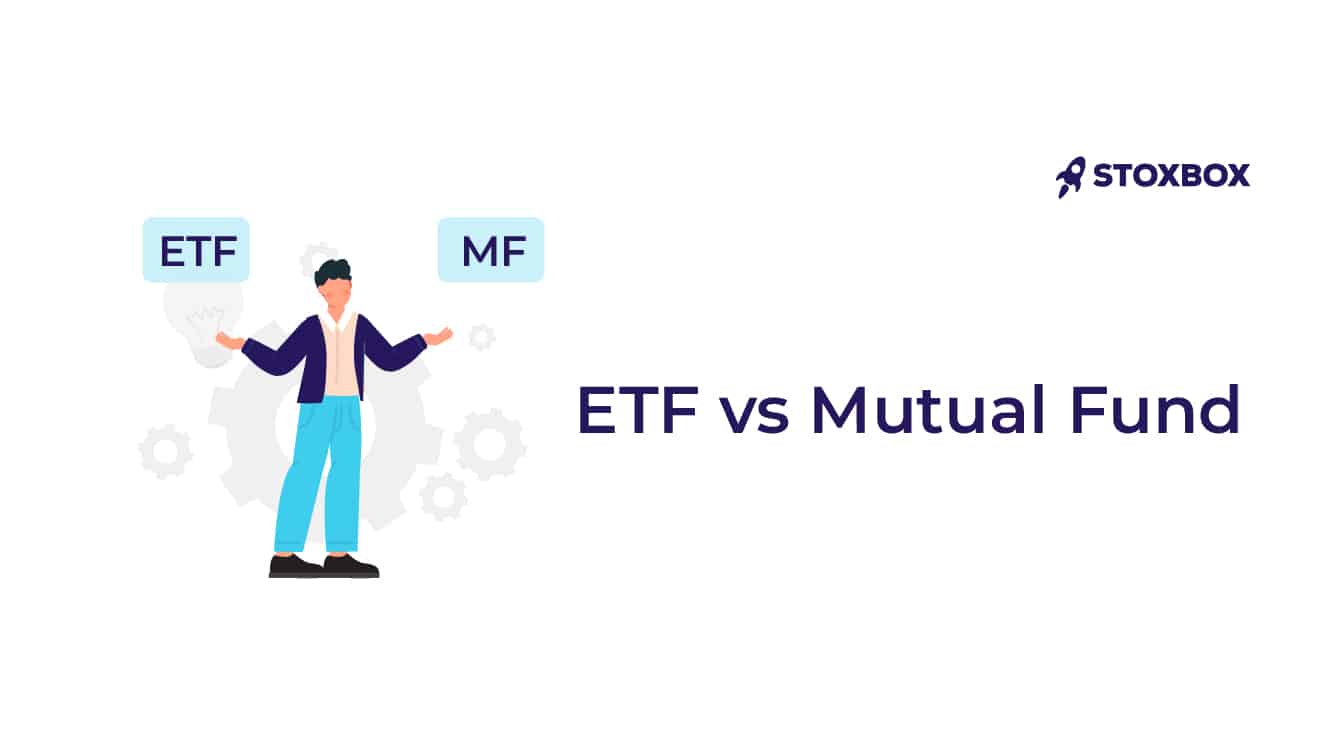 ETF versus Mutual Funds – What is the Difference? Every...